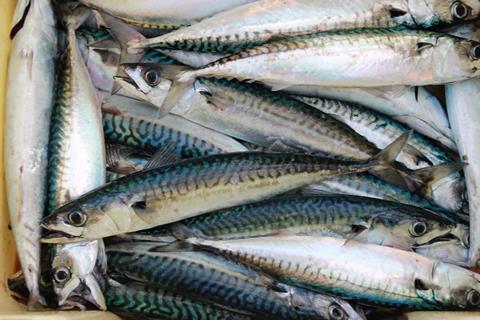 Brits are paying significantly more for mackerel in the mults after adverse weather and a cut in quotas put pressure on supplies.

Supermarket prices for tinned mackerel are 9% higher on average than last year, research by The Grocer reveals, while fresh mackerel prices are up 2% on average [Edge by Ascential 52 w/e 11 June 2019].

Shoppers are paying 11p more for a 125g tin of own-label mackerel fillets in olive oil, now 89p, while a 125g tin of mackerel fillets in tomato sauce is 6p more expensive at 81p and a 110g tin of John West Wood Smoked Irish Peppered Mackerel is up 36p to £1.96.

Meanwhile, Sainsbury's has added 25p to its 180g pack of fresh mackerel fillets, now £2.25, while Asda has added 20p to its pack of two mackerel fillets (240g), now £2.20.

It follows a 49% year-on-year surge in wholesale prices for Norwegian mackerel last September [Mintec] after storms forced fleets to stay in port at the beginning of the catch season. As of mid-October, Norwegian mackerel landings amounted to 74,000 tonnes, compared to 180,000 tonnes at the same time in 2017, according to the FAO.

Prices have remained high this year as a result of a 20% cut in the total allowable catch (TAC) for north-east Atlantic mackerel in 2019.

The 2019 quota of 653,438 tonnes was agreed by the EU28, Norway and the Faroe Islands in November 2018 after the International Council for the Exploration of the Sea (ICES)had warned northeast Atlantic mackerel stocks were reaching precariously low levels.

At the time, it called for the TAC to be cut by 42% to give stocks a chance to recover, and the decision to ignore this advice and set a higher quota prompted the Marine Stewardship Council to suspend the MSC certificate for all northeast Atlantic mackerel fisheries in March 2019.

"Factors including declining stocks, quotas set above new scientific advice and poor recruitment have combined to mean that the fisheries no longer meet the MSC's requirements," said Camiel Derichs, Europe director for the MSC.

However, ICES subsequently revised its assessment after fishermen questioned the veracity of its original stock estimates, claiming they were seeing an abundance of mackerel on fishing grounds. Last month, it raised its north-east Atlantic stock estimates by 77% - from 2.35 million tonnes to 4.16 million tonnes - and said catches in 2019 should be no more than 770,358 tonnes.

Scottish fishermen hope this will pave the way to the lifting of the MSC suspension. "We are committed to the long-term sustainability of the stock," said Ian Gatt, chief executive of the Scottish Pelagic Fishermen's Association.

But for now, the reduced quota for mackerel in 2019 means prices "will continue to rise during the next 12 months", warns the FAO.