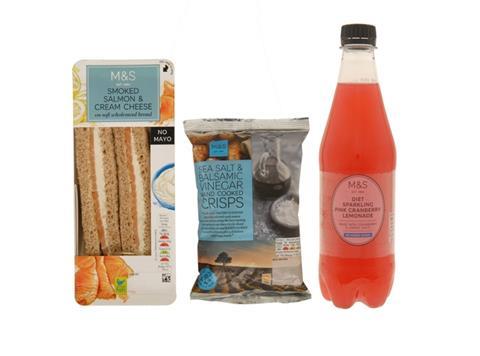 Marks & Spencer has launched a lunchtime meal deal with a sandwich, crisps and drink for only £3.50.

The deal, for a "bargain price", was introduced last week and is thought to be the cheapest ever from the retailer, with "plenty of options' such as gluten-free and vegetarian.

The range of 41 items includes 15 sandwiches such as Roast Chicken & Avocado, Made Without Wheat BLT, and Wensleydale & Carrot Chutney.

Two salads, Roast Chicken and Poached Salmon and Watercress, are also available.

A range of 13 drinks includes Coca-Cola, sugar-free cranberry juice, lemonade and Florida orange juice, and there are 11 variants of crisps.

Other supermarkets offer lunchtime meal deals for £3. Tesco's includes a sandwich, wrap or salad, snack and drink for £3, while Sainsbury's includes sandwich, pasta or salad, snack and drink, also for £3. Morrisons also has a similar offer.