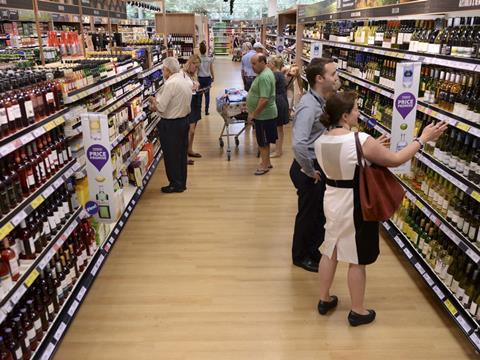 Shoppers this week faced price rises on more than 600 booze SKUs in Scotland with the onset of minimum unit pricing, exclusive research by The Grocer reveals.
Base prices (excluding promotional activity) have risen on at least 655 SKUs across Tesco, Asda, Sainsbury's and Morrisons north of the border since the legislation came into force on 1 May, according to the latest Brand View data [52 w/e 3 May 2018].
On average, prices rose by 17.3% week on week on the 655 affected SKUs. The average price hike on lager and cider was 17.8%, on ale 17.3% and on wine 17.4%. Spirits prices rose by 15.6% on average.
Almost half of the price rises affected wine: over 290 SKUs (including champagne and fruit wines) are now more expensive. Meanwhile, 180 cider and lager lines were hit, alongside approximately 120 spirits and 40 ales.
Own-label drinks were hit particularly hard, the data suggests, with roughly 215 own-label lines across the mults now more expensive in Scotland. A litre of own-label vodka, gin or rum in Tesco and Asda, for instance, has risen to £18.75 from £15.
However, some of the sector's biggest brands have also seen big increases. A 4x568ml multipack of Stella has risen to £5.46 from £5.10 in Tesco and Asda, while a 4x440ml pack of Strongbow has risen to £4.40 from £3.75 in Sainsbury's and £4 in Tesco and Asda.
Across the entire BWS category, which comprises more than 5,000 SKUs, prices were up by 1% week on week.
Risk to value lines
The steep rise in own-label prices in particular meant value lines could become obsolete, said one source at a major retailer. "When you look at fixtures, this is going to push own-brand up to the point that they are encroaching on premium brands. So supermarket own-label vodka will come pretty close to Smirnoff red, for instance.
"Some products might disappear it there is no gap between the two tiers – the cheaper products become a bit obsolete. Would you buy a bottle of £13 value or own-brand vodka when it costs only a quid less than Smirnoff? Or would you take the hit on the Smirnoff?"
They suggested the highest price rises would be seen not in the supermarkets but in convenience stores and off-licences, particularly on high-strength ciders and similar products not sold in the mults.
However, JW Filshill retail director Craig Brown told The Grocer it had "been working on [MUP] since October and therefore our retailers have been working hard to remove affected lines from their range."
Christopher Snowdon, director of lifestyle economics at the Institute of Economic Affairs, added: "Consumers will very quickly realise there is no point buying a high strength cider at £12 when you can get something a bit nicer. The stuff at the bottom end of the market will just disappear.
"The pre-minimum unit pricing mid-tier category will become the new bottom end and there will be a lot of competition. Presumably there will be more advertising and some brands may even reformulate their products. With Whisky, for example, we might start seeing brands go down to 37.5% abv – it's not much but it will make them look a bit cheaper on shelf."
Last-dash buying
The retail source also denied claims the mults had been "beefing up" stock ahead of MUP to take advantage of last-dash buying before the legislation and cross-border booze trips in its wake had been grossly exaggerated.
"The media were really trying to get the story going that stores south of the border had been boosting their ranges and stock and preparing for this caravan of white vans heading south, but that's not happened," they said.
Filshill's Brown added: "I've not heard of anyone seeing a huge spike in sales pre-MUP but that may be down to consumer awareness being very low still, due to a lack of communication from the government."
A spokeswoman for SPAR said the group's booze sales "have not changed significantly over the period".