Just over a month ago, Morrisons finally woke up to the threat of the discounters. At its annual results presentation, CEO Dalton Philips announced a £1bn investment over the next three years in its pricing.
The retailer also revealed it was to reduce the number of deals it offered by 10% as it looked to deliver fewer but more targeted, worthwhile offers, and two weeks ago, The Grocer revealed Morrisons was ditching its promotional dump bins as part of a strategy to de-clutter stores and better target deals.
However, the price cuts have received a rather tepid response from industry experts and shoppers to date, although the retailer has insisted they will gather momentum as it rolls them out on an ongoing "snowballing" basis.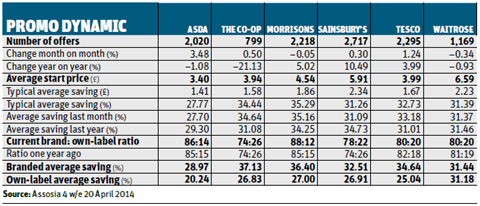 The shift in promotional focus has also started slowly, according to the latest data from promotions experts Assosia. For the four weeks to 20 April, Morrisons ran a total of 2,218 deals in featured space - down just 0.05% on the previous four-week period (although up 5% on the same period last year). However, its typical average saving of £1.86 was 0.37% more than it offered during the previous four weeks and up 3.01% on last year.
Of the six biggest UK grocers, it was actually The Co-operative Group that offered the biggest rise in savings compared with last year. The retailer, which this week announced a new plan to invest £100m in cutting prices on essential items in a bid to bring it into line with Tesco Express and Sainsbury's Local, was offering an average saving per deal £1.58, up 10.8% on the same period in 2013.
In terms of the types of promotional mechanic favoured, the simple save deal was by far the most popular. In the past four weeks, it accounted for 42.85% of all deals - up almost five percentage points on the same period a year ago.
Extra free, on the other hand, is in danger of becoming extinct, accounting for just 0.25% of offers. "It is used only sparingly by Co-op, Morrisons and Sainsbury's," said Assosia MD Kay Staniland. "The main issue with extra free is that it involves either temporarily changing pack size or additional outer wrapping - all extra outlay for the supplier before the promotion even starts."