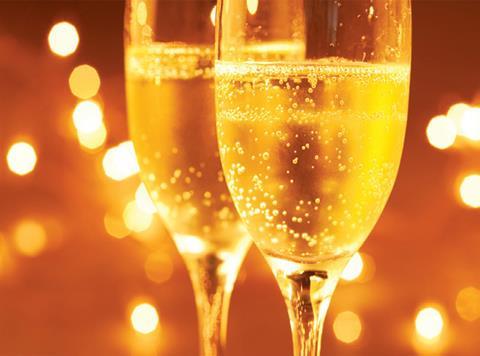 Sales of Prosecco have overtaken Spanish sparkling wine for the first time, according to Lanson's third annual Champagne category report.
Value sales of the Italian sparkler rose 54% year on year to £229m, according to Nielsen data quoted in the report, driving overall growth of the sparkling wine sector by 11.3% to £460m.
Spanish sparkling wine fell 4.4% to £167m and took a hit on its market share, falling from 43% in 2012 to 37% last year.
The strong sales of Prosecco saw its share grow from 37% to just over half of the sparkling wine category by value. Nielsen analyst Natasha Kendall said its average £1 per bottle price premium had seen value sales overtake Spanish sparkling wine earlier than volume sales; however volume sales had also risen ahead of the Spanish product in November last year. Sales of Champagne remained just ahead of Prosecco in value terms, she added.
The report found English sparkling wine's market share remained at around 1.5% of the market, but value sales had recovered the ground lost last year, seeing a 5.2% uplift to £6.26m as it overtook South African sparkling in value.
Australian sparkling wine took a hit, declining by around a quarter and losing market share, while New Zealand also declined [Nielsen Scantrack 2014 52 w/e 4/1/14].
Despite the onslaught of Prosecco – particularly own-label Prosecco – Grand Marque champagne and 'soft' brands' fared well, Lanson said, and its research found consumers were still willing to splash out on Champagne for major celebrations, while using sparkling for more informal events.
"What has become evident is that while there is some softening at the lower end of the Champagne category, many more people are trading up to Prosecco from still white wine and rosé, or switching from more traditional spirit-led aperitifs such as gin and vodka," said Lanson's MD Paul Beavis.
Grande Marque Champagne brands and smaller boutique grew in value, he added, up 8.6% and 15.8% respectively, with the biggest decline coming from retailer tertiary brands (down 12%) and own label (falling 16%) to £43m. Lanson said the top eight Champagne brands had seen value growth, but this was largely attributed to investment by the Champagne houses "paying off", suggesting value growth driven by promotional activity.
Research commissioned from Futuresight found subtle but "significant" differences in where consumers were purchasing sparkling wine, noting growth of sparkling ahead of Champagne in the discounters, smaller supermarkets and convenience stores. However 78% of total sparkling wine and Champagne sales came through the larger supermarkets.