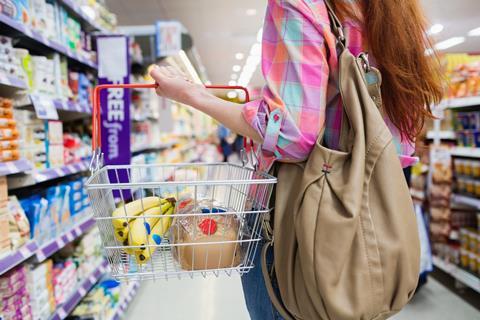 The overwhelming majority of Brits have said an increase in the price of their food shopping was the most common reason behind a rise in the overall cost of living, according to the latest Office for National Statistics (ONS) data.
Around nine in 10 adults (92%) said their grocery bills becoming more expensive was the main reason why their living costs increased in the period from 13 to 24 April.
As a result, four in 10 (39%) said they had resorted to buying less food when food shopping in the past two weeks – up from 34% in the previous period (30 March to 10 April) and 18% at the start of the year.
At the same time, 44% of respondents said they had to spend more than usual to get what they normally bought, compared with 37% in the previous period.
The other two main contributors to rising living costs were an increase in gas or electricity bills (86%) and an increase in the price of fuel (80%).
The ONS launched the survey in November 2021, the month after the government scrapped a temporary extra £20 a week to Universal Credit, as well as other pandemic support measures.
A total of 91% of respondents reported an increase in their cost of living in the latest period, an increase of 3% from the previous one. Comparatively, 62% reported mounting living costs in the first two weeks of November.
The ONS said people's experiences of the escalating cost of living crisis "may have been affected" by the recent increase to the energy price cap from 1 April 2022.
Earlier last week, Kantar data showed that grocery price inflation had hit an 11-year high at 5.9%.
Food retailers have been investing heavily in value-focused initiatives to help struggling shoppers. Last week, both Asda and Morrisons announced new rounds of price cuts.
And Sainsbury's CEO Simon Roberts vowed to limit price increases as customers were becoming "a bit more cautious and watching every penny".
As a result of increasing food costs, many households have turned to charities for support.
Last month, The Grocer reported food redistribution networks and food banks were struggling to help those in need as the cost of living crisis had resulted in skyrocketing demand.