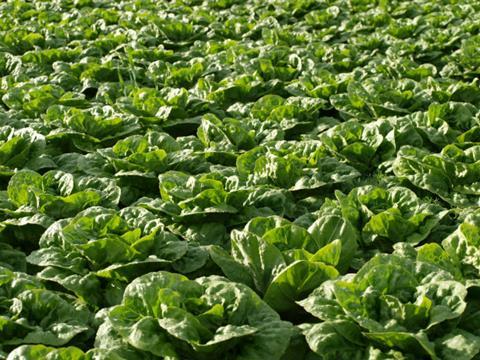 Lettuce prices have almost doubled since June due to a combination of extreme weather conditions and spiralling production costs in Spain.

Flash-flooding claimed seven lives in mid-September as rivers burst their banks during what was described by Spanish media as a "once in a century" slow-moving storm system.

The storm, known as a gota fría or 'cold drop', deluged key growing regions across the south-east of the country, including the provinces of Valencia, Alicante and Murcia.

With Spain producing approximately 55% of the lettuce consumed in the EU, damage to crops caused by the weather conditions has contributed to a sharp rise in price across the continent, according to Mintec. The average cost of iceberg lettuce in the third week of September had reached €0.56/kg, up 33% on the previous month and up 87% from €0.30/kg at the end of June.

"On the back of floods and heavy storms in Spain, lettuce prices have risen dramatically," says Mintec market analyst Rutika Ghodekar. "More than 300,000 hectares of agricultural damage is anticipated. As a result, there are concerns over the availability of all other leafy vegetables in winter across the EU, along with lettuce."

Other factors have contributed to rising prices. "Growers' costs are increasing all the time," says sales and procurement executive at Poupart Imports, Paul Rowe. "Seeds are more expensive and so is the workforce. Labour is going to be a big issue this winter, not just in Murcia but also in Almería, where there are talks of strikes in the greenhouses."

A poor growing season for UK lettuce precipitated by bad weather could add to the pressure on prices, Rowe adds. Poupart had started importing lettuce into the country two to three weeks earlier than usual to avoid a shortfall, he says.