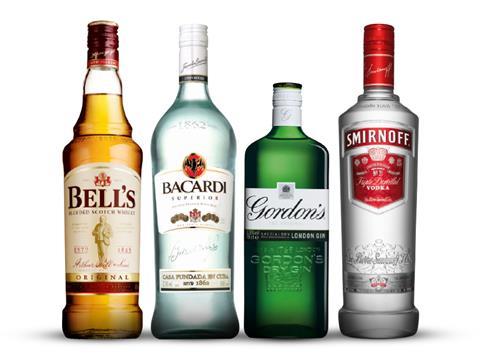 Vodka, rum, gin and whiskey prices are surging in the supermarkets - with the price of vodka up 5% on average compared with last year, and some brands subject to double-digit price hikes, according to exclusive research by The Grocer.

With major supplier Pernod Ricard this week blaming Brexit for price hikes on spirits and Champagne brands, The Grocer's research found that a 700ml bottle of Pernod-Ricard-owned Absolut Vodka Blue was 6% more expensive at £17. But a bottle of Diageo-owned Smirnoff Red Label vodka 700ml was up 11% to £14.70, while Grey Goose vodka 700ml (owned by Bacardi) is up 15% to £39.07 [Brand View 52 w/e 29 March 2017].

Gin prices are 3% higher on average in the mults than last year, with a litre bottle of Bombay Sapphire now 16% pricier at £24.20, and Gordon's Special Dry Gin 700ml up 12% to £15.10.

Rum prices are up 3%, with a litre bottle of Bacardi Superior now 15% more expensive at £18.90 and Captain Morgan Spiced Gold Rum 700ml up 11% to £15.63.

Whisky SKUs subject to price increases include Bell's Scotch whisky 700ml - up 12% to £15.40 and Jameson Irish whiskey 350ml - up 4% to £12.50.

While other drinks suppliers have kept quiet about price increases, Pernod Ricard revealed the price hikes in a presentation to investors, according to Bloomberg, which it blamed on the weakening of the pound since the Brexit vote.

Chris Ellis, Pernod Ricard UK commercial director, told the Grocer details of any specific price rises remained "confidential".

"The UK is important to Pernod Ricard and we will continue to invest in the market to accelerate our strong performance," he added.

Diageo, whose brands include Smirnoff, Captain Morgan, Bell's whisky and Gordon's gin, and Bacardi Brown Forman, which makes Bacardi rum and Bombay Sapphire gin, did not comment.

However, the Wine and Spirit Trade Association has warned spirits businesses currently face a "tough trading landscape", with the Chancellor's decision to hike alcohol duty in line with RPI inflation an additional factor.

The 3.9% tax increase, announced as part of the spring Budget, meant duty on a litre bottle of vodka increased by 40p to £10.78, while duty on a litre of bottle of gin increased by 34p to £11.50, according to WSTA calculations.

Supermarket price hikes on spirits follow similar moves in the beer, lager and cider aisles earlier this year. Major brewers announced they were increasing their on-trade wholesale prices in January, citing "significant" cost challenges.

They have remained tightlipped on price negotiations with retailers, but sources say Tesco's brutal axing of Heineken brands, revealed by The Grocer last week, was driven by the Dutch supplier's attempt to push through "outrageous" price increases justified by the post-Brexit exchange rate.

As the government this week triggered Article 50, beginning the formal process for the UK's exit from the EU, the WSTA called for "continued, tariff-free movement of wines and spirits to and from the EU" and new tariff-free agreements with priority countries to minimise the impact of Brexit on booze brands in and from the UK.