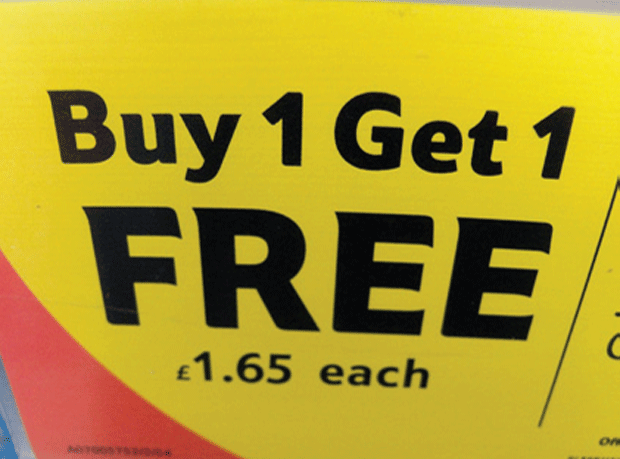 Britain's biggest supermarkets appear to be switching back to multibuys, despite promising to make pricing simpler for shoppers.

Across the UK's major mults, x for y deals accounted for 24.7% of total featured space promotions last month, up 5.5 percentage points from the same four-week period in 2016. Bogofs were also up slightly, though they still only accounted for 1.6% of total deals.

At the same time, save deals were down by 10 percentage points year on year, accounting for 60.2% of deals, compared with 70.6% of deals at this time last year. As a result, multibuys accounted for 26% of promotions, up from 20% last year.

"Going against the usual trend, all retailers reduced save deals and increased multibuys compared to this time last year. Waitrose made the biggest change, increasing multibuys by 18.8 percentage points year on year to account for 43.2% of its total featured space promotions," says Assosia director Kay Staniland. Part of the push back towards x for y offers might be "savings related", Staniland adds, with save offers giving an average saving of 29.7% last month, while multibuys offered only 24.1% savings on average.

Average savings were down year on year across most of the major mults with the exception of Tesco and Sainsbury's.

Sainsbury's has reduced the number of total featured space promotions in stores - by 12.5% month on month and 24.7% year on year - but average savings were up 1.5% on last year. This was despite the supermarket ramping up its use of both the x for y and bogof mechanics.

Tesco has increased the number of deals in stores by 2.2% and average savings by 1.2%, both year on year. Multibuys accounted for 25.4% of its deals, compared with 19.7% last year.

"With an average % saving of 34%, Co-op (despite having the least promotional activity) appears to offers the best deals," adds Staniland.