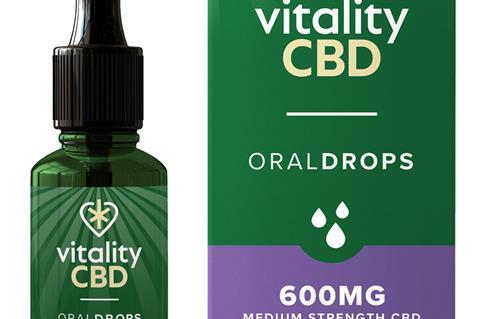 Vitality CBD is to cut the prices of its core range of health supplements by 40%, following "unprecedented sales success" during the pandemic.
The Birmingham supplier's online value sales soared by 120% over Q2 and Q3, compared with the previous six months. This was driven by muscle balm and oral drops, as well as shoppers trading up to higher strengths of CBD supplements, the brand said, though it declined to share absolute value figures.
However, it did add that it "almost doubled our sales volume, going from 2,285 [units] in Q4/Q1 to 4,170 in Q2/Q3, with two weeks still left in Q3".
As a result, Vitality has taken the decision to reduce rsps across its core, six-strong lineup of oral drops and sprays from Wednesday (23 September). Prices will fall by 40%, ranging from £19.99 to £49.99. They currently stand between £29.99 and £79.99.
The brand had been "well supported by our retailers and consumers during what has been an uncertain period for all" said commercial director Phil Glyn. "We would like to pay forward this support by offering customers greater value, making our products more affordable."
Vitality hoped its price cut would "make CBD more accessible and appealing for consumers new to the category" he added.
It comes after British Cannabis unveiled a selection of CBD products that significantly undercut the prices typical of the category. The supplier's new Access CBD brand of oral drops has rsps from £5.99 for 300mg strength to £29.99 for 2,400mg – about 40% lower than Vitality's adjusted prices.
Makers of CBD food and drink have just six months to apply for novel foods status from the FSA, or risk having products removed from shelves.
The Grocer has gathered experts in retail, food safety and manufacturing for a webinar looking at how legislation is changing for CBD suppliers, which products will be affected, and how retailers and brands are preparing for the FSA's 31 March deadline.