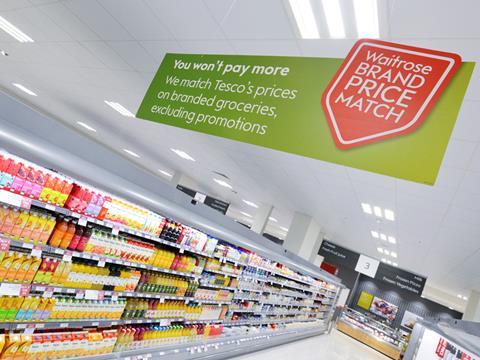 Waitrose has drastically scaled back its pledge to match Tesco for price on thousands of branded items.

The supermarket's Brand Price Match now covers 1,200 lines instead of 8,000.

"We continue to price match with Tesco on more than 1,200 of the most popular branded lines," a Waitrose spokeswoman told the Grocer.

Waitrose introduced the promise in 2010 and extended it to 8,000 branded lines in 2012. The supermarket has previously described it as its own version of John Lewis' 'Never knowingly undersold' pledge.

The spokeswoman said the offer was scaled back "almost two years ago to focus on the brands our customers buy most often", although the scale of the change has only just emerged. She added that Waitrose changed its point of sale materials accordingly in 2017 and removed Brand Price Match signposting from items which were no longer included in the pledge.
The news comes as Waitrose pushes to increase its own label products' presence in its stores and differentiate itself from competitors through a range review across 30 categories. Commercial director Rupert Thomas told the Grocer in August that the reset would tailor its ranges to local demographics and boost the dominance of own brand products, which currently make up 53% of its SKUs.

Waitrose has already reset its sliced bread, pre-packed cheese, cereal and yoghurt categories, and relaunched its Cooks' Ingredients range with 100 new lines, as well as confectionery and allergen-free ranges.