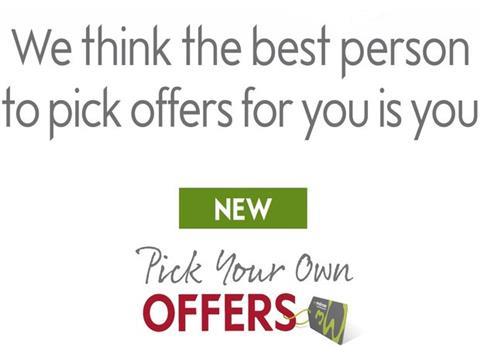 Supermarket promotions were back in the headlines this week as Waitrose launched its Pick Your Own Offers initiative and a new report from Nielsen claimed 60% of in-store promos result in a loss for fmcg suppliers.

MD Mark Price was at pains to point out Waitrose would not be cutting back on general deal activity in order to absorb the cost of Pick Your Own. According to the latest figures from promotions experts Assosia for the four weeks to 6 June, Waitrose actually ran more deals over the period than in the preceding four weeks.
The number of deals in featured space at Waitrose was 1,168, up 3.5% on the previous four weeks; however, this was 6.4% down on the same time a year ago.

Assosia MD Kay Staniland hailed the Pick Your Own move as groundbreaking. "The Waitrose example is brilliant - allowing consumers to choose which products they get their savings off," she said. "It's new, it's different - for how long though is another matter, before other retailers jump on the bandwagon. Themed events seem to have a big impact on uplifts in spend for key categories. It's time to start thinking outside the box rather than me-tooing."

Staniland also called for more excitement in terms of retailer deals, arguing the retailers were too often following a well-trodden path with little in the way of differentiation.

"It continues to be all about basic price cuts among the major multiples - in all retailers the price cut mechanic accounts for more than half of all featured space promotions," she added. "When looking at the top five subcategories on offer, wine and ambient confectionery came up in all six retailers. OK so we can buy cheaper wine and chocolate, but there is more to the weekly shop than that."

Of the six biggest retailers, Sainsbury's, with 2,973 offers, had by far the biggest number of deals in featured space. While it was up only slightly on the previous four weeks, it was 18.2% more than a year ago. Asda also increased the number of deals it had by a similar percentage compared with a year ago although its total of 2,432, down from 2,444 during the previous four weeks, made it the only retailer to reduce the number of deals month on month.