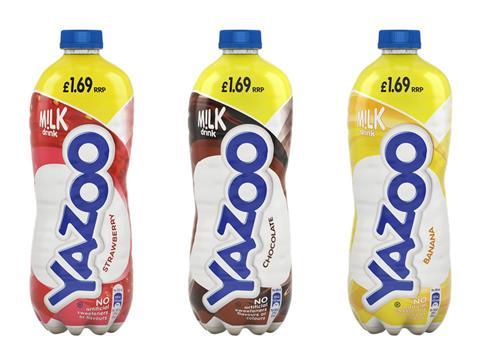 Inflation is creeping into the convenience channel, with Yazoo the latest brand to push up prices on its products.

The FrieslandCampina-owned brand announced last week it had re-introduced price-marked packs of its one-litre flavoured milks for the convenience channel to appeal to shoppers "looking for value for money".

It said it decided to bring back PMPs "permanently" after sales figures revealed a limited edition range on shelves from July 2016 to April 2017 had achieved twice the sales of their non-marked equivalent [IRI Infoscan, Independent Grocers, 12 w/e 4 March 2017].

"We already have PMP offerings in our on-the-go size, and have seen just how popular they are," said Richard Duplock, Yazoo marketing manager at FrieslandCampina. "We are confident it will help retailers to boost sales and continue to win customers' trust."

However, the new "permanent" one-litre PMPs - which rolled out in chocolate, strawberry and banana flavours last month - have an rsp of £1.69, up from £1.50 previously.

The 12.7% hike came despite no ingredient reformulations or increase in pack size, a spokeswoman confirmed. She stressed the previous PMPs were not intended as a permanent fixture.
The new price "echoes the changing market", added Duplock. "It is slightly higher than the 2016 limited edition run, and this reflects the process behind introducing a permanent line. Our aim is always to help retailers build trust, at just 69p more than our 400ml bottle, the 1 litre PMP offers great value for money."
He pointed out feedback from retailers and customers alike had been "very positive", with the price point "well received across the board".
It comes after Müller last month reduced bottles of rival milkshake brand Frijj from 471ml to 400ml while maintaining an rsp of £1.30.

Supermarket prices for Yazoo appear to have remained unchanged, with one-litre packs ranging from £1 to £1.50 in Iceland, Asda and Sainsbury's.