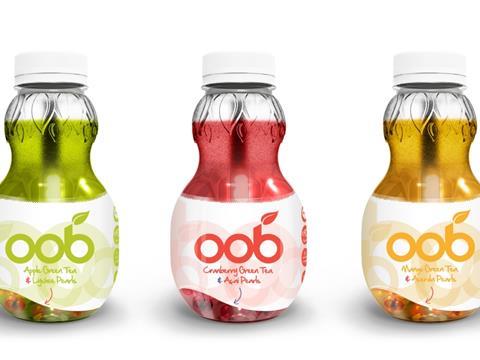 Bubble tea is ramping up its presence in UK retail, with two businesses this month unveiling their own takes on the Far Eastern product.
Start-up Kmera is launching an RTD green tea containing 'pearls' of juice, while Zacely is rolling out kits that allow consumers to make bubble tea at home. Both launch at Food & Drink Expo in Birmingham from 24 to 26 March.
Kmera is launching Oob, a range of three ambient green teas with juice-filled pearls made from kelp (rsp: £1.88/317ml). The range comprises apple with lychee pearls, cranberry with acai pearls, and mango with acerola pearls. Kmera is in talks with distributors and has plans to develop the range further.
Meanwhile, tea specialist Zacely is rolling out a retail version of its foodservice Wild Monk bubble tea. The make-your-own kits contain sachets of dehydrated and powdered fruit tea and a tub of 'pobbles' made from agar jelly and fruit juice concentrate. They come in summer berries and tropical flavours (rsp: £6) and comprise five 25g sachets and 100g of 'pobbles'.
Zacely is also launching a retail tub of mixed 'pobbles' in green apple, mango and strawberry for consumers to use as an ice cream topping.
Last year, German manufacturer Zeekei targeted the UK with its Coobo bubble tea brand, which gained a listing in Harrods last October.
Bubble teas originated in Taiwan in the 1980s and contain chewy balls, usually made of tapioca.