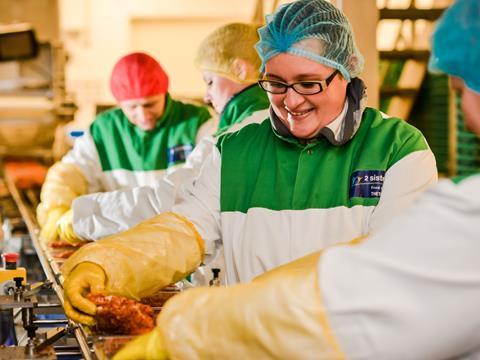 2 Sisters Food Group has reopened its scandal-hit West Bromwich plant, with major supermarkets confirming they will accept chicken from the plant again following "comprehensive retraining".

The supplier confirmed production would resume today (6 November) following a month's suspension in the wake of a Guardian/ITV exposé that uncovered alleged myriad food safety violations.

It said reach of CCTV at the plant had been extended and would be monitored around the clock, while FSA inspectors would be on site at all times at the company's expense.

"We can confirm that following comprehensive retraining sessions with all colleagues during October, we are restarting production at our site D facility in West Bromwich," said a 2 Sisters spokesman. "This will be phased over the coming weeks, working closely with our customers in the process. We would like to thank our colleagues at the site who have acted with understanding and professionalism during this unsettling period."

Tesco, Aldi and Marks & Spencer confirmed they would be accepting chicken products from the site, having been satisfied that the upgrades would ensure quality standards were being met.

"Following the retraining carried out by 2 Sisters at its West Bromwich site, we can confirm we will begin to receive orders from the site again in the coming days," said a Tesco representative. "We are satisfied the issues have been addressed and work will now be carried out to our high production standards. We'll continue to work with 2 Sisters and the FSA as the site gets back up and running."

A spokesman for M&S added: "We have assessed the changes made at the site by 2 Sisters and are confident it can meet our high production standards. We will work closely with the site's management team and the FSA in the coming weeks."

A statement from Aldi said: "As a result of the remedial measures 2 Sisters Food Group have put in place, we are satisfied that all issues have been resolved."
Lidl has also now agreed to stock products from the plant, having originally said it would not. "We take the issue of food safety extremely seriously. We have been in continuous contact with 2 Sisters to ensure that corrective actions have been taken, including the retraining of all staff," said a Lidl spokesman.
"Following our own investigations and the FSA's separate investigation, we are satisfied with the food safety measures that are in place and will start taking delivery of products from 2 Sisters' site D again tomorrow. We will continue to carry out regular, unannounced audits, as we do with all of our suppliers, and will take appropriate action, should any non-conformance come to our attention."
Sainsbury's said it would not be accepting stock from the West Bromwich site, although it has continued to accept stock processed at other 2 Sisters plants.
The reopening follows CEO Ranjit Singh's appearance in front of a Commons Committee to answer questions about the violations, which included staff at the plant returning a chicken which had been dropped on the floor to the production line. During questioning, Singh apologised for the breaches, asserting that he would "personally go see any retailer to ask them to take product from that factory" in a bid to restore confidence.