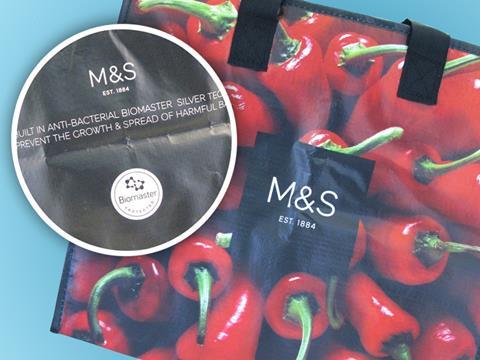 A bag for life with antibacterial technology has picked up its first listing with a major retailer.

Bags using Biomaster technology - which uses a silver-based additive invented by British company Addmaster - are now on sale nationwide in M&S stores in a range of sizes (rsp: £0.90 to £4.10).
The bags, made in Dorset by packaging manufacturer Solent Group, use antimicrobial properties to inhibit the growth of bacteria, thereby allowing shoppers to safely carry raw meat one day and general groceries the next.

The technology was devised to help tackle bugs such as campylobacter, and has taken more than four years to bring to market.
Addmaster claims the technology has been tested to be effective at reducing the growth of more than 50 types of harmful bacteria, including e.coli, MRSA, listeria, salmonella, legionella and pseudomonas, in addition to campylobacter.