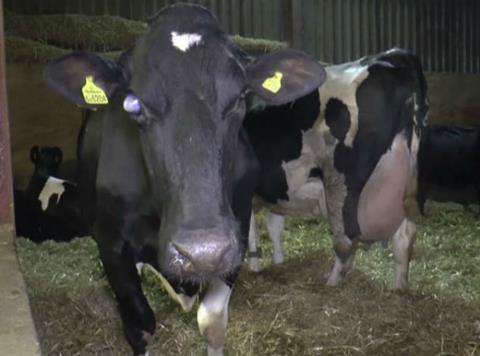 Arla has rejected claims of welfare issues in its supply chain after vegan activist group Viva! reported one of its supplier farms to welfare authorities following an exposé into the dairy industry.

The group reported Arla supplier Halswell Farm in Devon to a local branch of Defra's Animal and Plant Health Agency following a series of visits to around a dozen different dairy farms in March.

Viva!'s campaigns division filmed dairy cows struggling to walk due to carrying around 14 litres of milk, equivalent to 13kg, in their udders at Halswell Farm, it claimed. The video also showed some animals looking emaciated, with pelvic bones and spines visible through their hides.

Arla denied the footage was representative of its farming methods or approach to animal welfare, adding an independent vet and Red Tractor representative had inspected the farm in the month since Viva! obtained its footage, neither of whom had found any immediate welfare concerns.

"All Arla farmers have a duty of care to their animals, and take their welfare extremely seriously. The results of farm audits by Arla and external bodies evidence this," said an Arla spokeswoman.

"If farms are suspected not to be compliant with Arla's industry-leading animal welfare programme, and national Red Tractor standards, we undertake our own investigations. If suspected issues are found to be true and not resolvable, poor animal welfare will lead to a farmer no longer supplying Arla."

Other farms investigated by Viva! included suppliers to Tesco, M&S and Cadbury.

The group claimed that around 50% of the cows seen had their back legs shackled to prevent "splaying" as a result of pelvic damage during calving, said Viva!. However, the NFU confirmed that the use of hobbles was a common temporary measure used in the dairy and beef industries to help cows regain muscle strength after a fall.

Viva! claimed to have witnessed European Commission directive breaches at ice cream brand Auntie Moo's supplier Fairfield Farm, also in Devon. Calves were said to be kept in small individual pens for beyond the allowance of the first eight weeks of their lives, with some up to four months old struggling to turn in the fenced enclosures.

Auntie Moo's did not respond to requests for comment.

No other breaches were reported, though Viva! said it hoped to raise awareness of practices in the dairy industry with its coverage.

The Grocer understands a legal case is ongoing between Viva! and some of the farmers involved in the exposé.