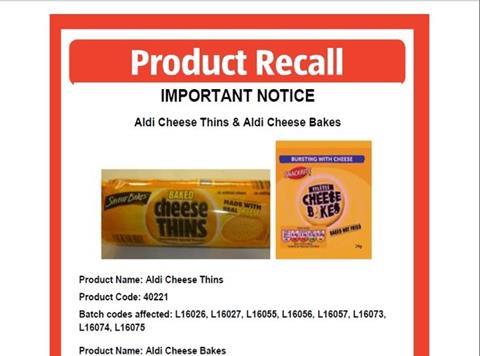 A number of Aldi, Happy Shopper and Bestway own-label snacks have been recalled after they were found to have been made under "unhygienic conditions" at the supplier's production facilities on Teeside.

Baked goods manufacturer Baketime apologised after a variety of biscuits, cakes and other snack items were found to have been subject to possible "pest contamination" at its five-acre facility in Middlesbrough, which holds food safety accreditations from the British Retail Consortium, Tesco and Marks & Spencer.

The company, which also supplies Booker, said it had provided all customers with point-of-sale recall notices for display in stores, but refused to make further comment.

"Baketime Ltd is recalling various branded biscuit, snack and confectionery products on a precautionary basis, as they have been manufactured in unhygienic conditions," said a notice on the Food Standards Agency's website. "All batches of the products… are being recalled as they may have been subject to pest contamination."

Batches of 16 different items were pulled as a precaution. Aldi products affected were Cheese Thins, Cheese Bakes, Oddbites in cheese, salt & vinegar and smoky bacon flavours, and Ginger Nuts. Other items suspected of contamination included Happy Shopper's Cheese Thins, Fudge Brownies and Choc Chip Cookies, and Bestway's Mini All Butter Shortbread, Mini Brownies, Mini Cheese Thins and Mini Choc Chip Cookies.
Aldi said on Wednesday it had suspended its relationship with Baketime while the incident was being investigated.
A spokeswoman for Booker said: "We take this seriously. We have received no complaints about these four products and they have been purchased in the last year by only 1% of customers. Any customer who has purchased the products with the affected batch codes can return them to their local Booker branch where they will receive a full refund. We are sorry for any inconvenience that this may have caused."

The full list of products and their batch numbers follows below. No other products manufactured by Baketime are known to have been affected.
Aldi Cheese Thins (10% Cheese) - L16026, L16027, L16055, L16056, L16057, L16073, L16074, L16075
Aldi Cheese Bakes - L16026, L16027, L16032, L16033, L16039, L16040, L16046, L16047, L16053, L16366, L16060, L16066, L16067, L16073
Aldi Oddbites Cheese - L16060
Aldi Oddbites Salt and Vinegar - L16061
Aldi Oddbites Smoky Bacon - L16061
Aldi Ginger Nuts - L16047, L16048, L16061, L16062, L16068, L16069
Bestway Mini All Butter Shortbread - L16034
Bestway Mini Brownies - L16035
Bestway Mini Cheese Thins - L16032, L16033
Bestway Mini Choc Chip Cookies - L16035
Happy Shopper Cheese Thins - L16026, L16027, L16032, L16053, L16366, L16060, L16066
Happy Shopper Fudge Brownies - L16041
Happy Shopper Choc Chip Cookies - L16041
LBV Potato Bakes Korma - L16034
LBV Potato Bakes Mild Thai L16034
LBV Strawberry and Vanilla Biscotti L16027