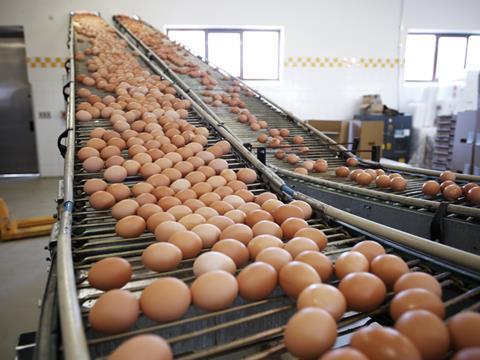 There could be a higher risk of eggs with salmonella on British shelves if the UK agrees to US terms over a free trade deal, campaigners have claimed.

Kath Dalmeny, chief executive of food campaign group Sustain, warned of the dangers of a deal during an Environment, Food and Rural Affairs Committee hearing into the effects of Brexit on food trade.

She said a UK and US free trade deal would mean having to bow to American food standards.

US commerce secretary Wilbur Ross has previously suggested any post-Brexit deal would hinge on the UK scrapping some EU rules that prohibit the import of US washed and sanitised products, such as eggs.

Holding up a makeshift egg box decorated with a US flag, Dalmeny said: "Well it's quite likely this box would be higher in salmonella, or have a higher risk of salmonella, than this [UK egg] box."

At the beginning of October, the Food Standards Agency declared 'Lion mark' runny or raw eggs safe for pregnant women and children to eat.

It came almost 30 years after Britain was engulfed in a salmonella scare that caused egg sales to plummet and the slaughter of unwanted hens.

The then junior Tory health minister Edwina Currie's statement that "most of the egg production in this country" is "now affected with salmonella" ultimately led to her resignation.

Dalmeny said Britain had invested in "cleaning up the chicken systems" since Currie's comment.

"Well what will happen when, similarly, twice as much antibiotics are used in chicken production in America than by British farmers?" she said.

"If trade negotiators go into a room and make these kind of decisions on our behalf they need to know about food safety. They need to know about animal welfare, and they need to know we're watching."

In November, UK international trade secretary Liam Fox had insisted there were "no health reasons" Britons should not eat US chlorine-washed meat.

Days later he made an apparent u-turn on Radio 4's Today Programme, saying the government had made it "very clear we are not going to see reductions in our standards as we move forward, partly because British consumers wouldn't stand for it".