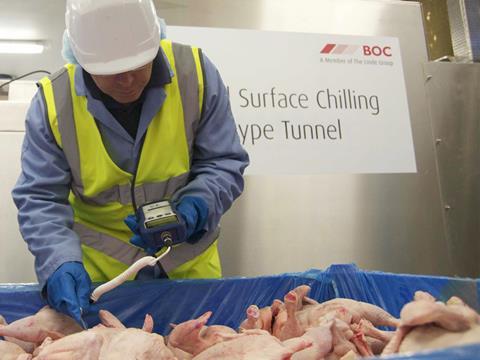 Scientists say a new process claimed to reduce campylobacter instances in poultry by 90% is set to go into full-scale commercial testing as early as this spring.

BOC, which is developing the rapid surface chilling technology in partnership with Bernard Matthews, is currently seeking agreement to start a full scale, in-line trial of the process after a successful industrial pilot last autumn.

The technique - which involves the rapid chilling of the surface of poultry using cooled liquid nitrogen vapour delivered at -196°C - could enable the poultry industry and the Food Standards Agency to meet their 2015 target to cut instances of high-level contamination in chicken from 27% in 2010 to 10%, claimed BOC.

A trial would involve the treatment of up to 11,000 chickens an hour in full production conditions, said BOC business development manager Cedric Hanson. "We have tested a range of bird sizes, and the next challenge is to test the technology at full line speed in a full-size machine."

The machinery was small enough to be incorporated into any existing poultry facility, claimed Hanson. He added the treatment had no effect on the texture, appearance or taste of chicken and complied with current poultry meat marketing regulations.

"Previously, treated chickens were certified by FSA vets and later went on sale, and that will also be the case for the birds treated in the next trial," he said.

News of the planned testing comes as a £1m trial of rival Sonosteam technology by Faccenda Foods comes to a close. Sonosteam kills campylobacter through the simultaneous application of steam and ultrasound.

A Faccenda spokeswoman told The Grocer testing would conclude this week, with trial results disclosed in due course.