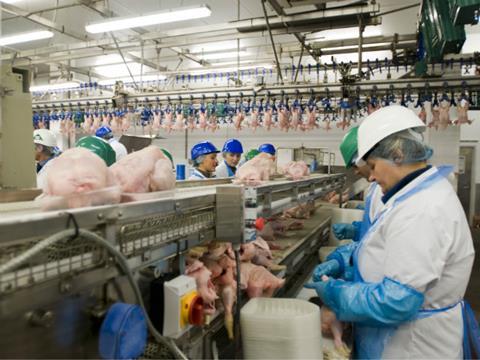 The checks and balances that are supposed to hold UK food companies to account and keep consumers safe are patchy, full of loopholes and easy to game.
That is the devastating verdict of a committee of MPs following an inquiry into the scandal involving poultry giant 2 Sisters Food Group.
Supposedly unannounced visits give food companies enough time to ensure staff are on 'their best behaviour'; companies are able to opt out of unannounced audits altogether; and information is not shared between trade and accreditation bodies and the Food Standards Agency, a report by the House of Commons Environment, Food and Rural Affairs Committee (Efra), published today, claims.
It appears relatively simple for someone to game the system and hide infractions
'For an industry which takes pride in the quality of its produce, we were surprised to hear of the apparently patchwork nature of the accreditation process,' Efra writes. 'It appears relatively simple for someone to game the system and hide infractions – by opting out of unannounced visits by the accreditors, for example – and the lack of joined up intelligence and knowledge-sharing seemingly presents many gaps into which misdemeanours can fall.'
Accreditation bodies like Assured Food Standards (AFS), which runs the Red Tractor scheme, and BRC Global Standards – both of which had accredited the 2 Sisters site exposed in an ITV/Guardian investigation – should see the scandal as a 'wake-up call' and tighten up their processes and close 'obvious' loopholes, Efra says.
2 Sisters is a company with a 'far from pristine' record that plays an enormously important role in the UK food chain – yet it had been able to opt out of unannounced accreditation audits and official oversight had been lax, the report states.
'Any risk management assessment which did not give this plant the highest priority and the most stringent levels of scrutiny is flawed,' it says. 'The Food Standards Agency's investigation into the case must examine the quality of its risk assessment to take better account both of its management's history and the facility's role in the food chain and the number of farmers and suppliers who rely on it.'
Confidentiality is not an excuse
There is no single overarching view about standards in a particular plant or facility
MPs were also concerned about the apparent lack of information sharing between privately run accreditation bodies and regulatory and enforcement agencies like the Food Standards Agency. The inquiry found, for example, that AFS had suspended the Red Tractor accreditation of 2 Sisters' West Bromwich plant but 'did not immediately and especially inform the Food Standards Agency'.
The report states: 'There is no systematic process for bringing together the various audits and assessments conducted by different accreditation and regulatory bodies; as such there is no single overarching view about standards in a particular plant or facility.'
Confidentiality concerns were cited, but Efra says that is not a valid reason not to share information.
'We trust that the confidentiality issues which apparently prevent the systematic sharing of data and intelligence can be worked around so that a single unified record of standards and hygiene practices can be kept to better identify failings. We recommend that the FSA takes steps in this direction and works with food accreditation companies towards a solution, and updates us on its progress within six months of publication of this report.'
'Questions' over 2 Sisters governance
While Efra's report is largely concerned with the failings of the regulatory and accreditation system, 2 Sisters itself also comes in for criticism.
'Valid questions' need to be asked of the company's corporate governance structure, Efra says, though MPs were pleased to hear of the steps taken by the company to ensure breaches would not occur again.
The report also reveals that 2 Sisters CEO Ranjit Singh Boparan, who appeared in front of MPs in October, updated MPs on 10 November on measures taken to improve standards at his company. These include 'full installation of CCTV' to be completed within 120 days; a full-time FSA inspector now based at West Bromwich; and 'mystery workers' to be deployed across 2 Sisters factories by the end of January.
'We request that Mr Boparan continues to update us on his progress in both installing these new measures and on re-establishing his supplier relationship with the main retailers,' the Efra report says.
A spokesman for 2 Sisters said: "We note the content of the report and look forward to updating the committee on progress in the new year."
Reaction
Professor Chris Elliott, director of the Institute for Global Food Security and author of a government-commissioned review of the food chain following the 2013 horsemeat scandal, said Efra's comments about audits and inspections not being fit for purpose struck a particular chord with him.
"I've been saying this ever since Horsegate but little seems to change," he told The Grocer. "My biggest concern is that nothing will change despite another clear warning. If not, who should be hold responsible?
Elliott added the report also raised broader questions about the resilience of the UK food system, given its reliance on very few players in a highly consolidated industry like poultry. "What would happen if one of the largest suppliers of a food commodity suddenly stopped producing?"