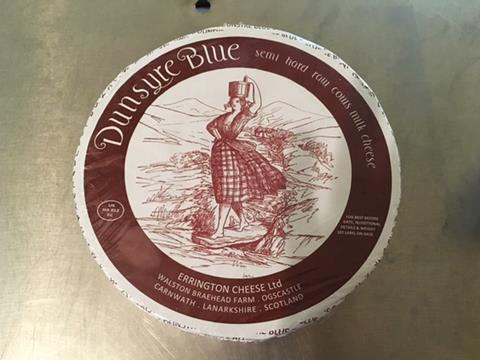 The cheesemaker implicated in the Scottish e.coli outbreak has launched legal proceedings against Food Standards Scotland in a bid to overturn a ban on the sale of its products.

Errington Cheese lodged papers for a judicial review at the Court of Session in Edinburgh last week to challenge FSS's decision to withdraw its entire range of cheese on 14 September. The cheesemaker said the legal challenge would make the evidence used against it public and "open to scrutiny".

The Lanarkshire-based company's Dunsyre Blue cheese was first linked to the e.coli outbreak - which led to the death of a child and more than 20 hospitalisations - in June, with FSS and an incident management team led by Health Protection Scotland both insisting its products were the "most likely cause" of the incident.

Errington has always disputed these claims, pointing out its own testing was clear. However, its products remain withdrawn from sale. The FSS recall was this week branded an "attack" on the unpasteurised cheese sector by founder Humphrey Errington.

The cheesemaker filed papers on three grounds: that FSS unlawfully ordered the destruction of the brand's cheese; that it has seen no action from FSS following the ban and the call for an investigation into the cheese; and a claim FSS had failed to produce evidence that linked the outbreak to the company's products.

"They've given us no information at all," said Errington Cheese founder Humphrey Errington. "They say they've found pathogens, our own tests have found no pathogens, but we haven't had any details of what tests they've done."

Job cuts

Errington has had to lay off all 12 of its workers as a result of the ban, and has £350,000 worth of stock that cannot be sold. The cheese is currently being housed at its premises, but it may have to be destroyed if sales are delayed to such an extent that the product becomes overripe.

"After lodging our case for a judicial review, FSS has backed down and rescinded its order that the cheese be destroyed, which is tantamount to an admission that they made a mistake in the first place in ordering destruction," claimed Errington.

The court date is yet to be set, however the cheesemaker expects it will be in approximately two weeks' time. Production and deliveries have halted at the factory, and it is unknown whether it will reopen.

"If we lose this judicial review and we fold, there won't be any raw milk cheesemaking in Scotland. And I suspect there will be rollover implications for cheesemakers in England as well," said Errington.

For the court fees, Errington has "dug into" savings from his retirement and partnered with journalist and author Joanna Blythman to set up a crowdfunding campaign to garner support for the brand. The JustGiving page launched on 27 October, and within 24 hours had raised more than £2,500.

The brand is asking for £50,000 to help with the cost of court fees, which could reach £100,000.

Blythman, who got involved in the case over concerns about the lack of appeals process following the FSS recall, said the continuation of the ban would pose further problems for Scottish producers.

"If this [the continuation of the ban] goes ahead, it will be a sign that goes up and says Scotland is not a friendly country for artisan producers," said Blythman. "It's a hostile environment."

FSS insisted it did not place any restriction on the use of unpasteurised milk in cheese production "provided that the milk and the production method used meets legal requirements and does not present a risk to public health".

It confirmed a petition for a judicial review had been lodged but said it "cannot comment further on live litigation".