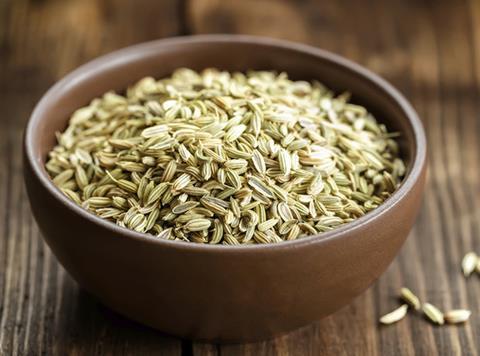 A batch of fennel seeds has been recalled after they tested positive for an outlawed food colour.
Dealicious Mealz UK has recalled 350g packs of its Dil Pasand brand fennel seeds with a best-before date of May 2015 following the detection of Rhodamine B, which is not a permitted food additive. No other Dealicious Mealz UK products are known to be affected.
The issue came to light as part of official control sampling by local authorities in Manchester, which is not related to ongoing Food Standards Agency investigations into the contamination of cumin and paprika with nut protein.
An FSA spokesman said the agency had not extended its own testing beyond cumin and paprika. However, industry testing is believed to be covering a wide range of herbs and spices, say observers.
"I've been told by industry sources that sage and oregano are two examples of such products under scrutiny," said Professor Chris Elliott, who led a government inquiry following the horsemeat scandal." The possibility that other irregularities with the quality and purity of herbs and spices which are widely used food ingredients cannot be ruled out at the moment."
A batch of Bart Ingredients ground cumin tested positive for almond protein in January, and supplier Santa Maria pulled products including branded and own label meal kits from shelves after they were found to contain almond from a batch of paprika contaminated with almond.