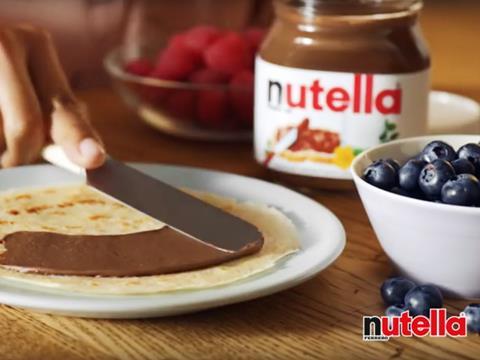 Ferrero has moved to allay UK consumers' concerns about the safety of Nutella, after the hazlenut spread was at the centre of a cancer scare.
It came to light yesterday (11 January), months after a study by the European Food Safety Authority had warned of the risk posed by cancerous contaminants – glycidyl fatty acid esters, or GE – which form in vegetable oils during food processing. The EFSA document from last May placed particular emphasis on palm oil, which is a Nutella ingredient and the oil most prone to GE.
The authority had paid particular attention to cakes, pastries and margarines, but the media spotlight in Italy, Ferrero's homeland, was shone on Nutella due to its ubiquity. The supplier responded with an ad campaign in defence of its popular product. It was later erroneously reported in the UK that Nutella had been removed from Italian supermarket shelves.
With Nutella still widely available in UK supermarkets, Ferrero moved to reassure British shoppers the country's most popular spread was not dangerous. "The health and safety of consumers is an absolute and first priority for Ferrero, and we confirm that Ferrero products are safe," said a spokeswoman.
The supplier applied "specific industrial processes" that limited contaminants to a minimum, she added. "In addition, our quality teams constantly monitor such factors and guarantee the food safety of our products."