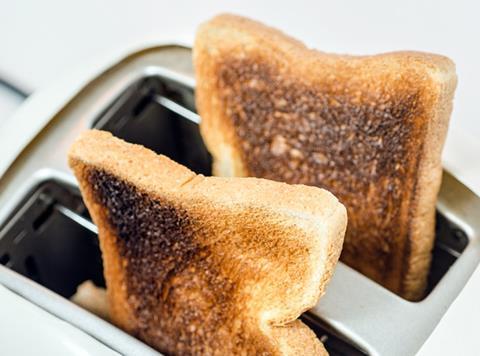 Food manufacturers have assured they are making progress on reducing acrylamide levels in food after health watchdogs raised fresh fears over the potential carcinogen.

The FSA today launched a major public health campaign on acrylamide after a study confirmed Brits consume higher than "desirable" levels of the chemical - produced naturally when starchy foods like potatoes and bread are cooked for too long at high temperatures.

Although it has not yet been proven that acrylamide causes cancer in humans, studies on animals have flagged it as a potential carcinogen and scientists agree it is likely to increase the risk of cancer.

The FSA campaign focused on how consumers can reduce exposure at home, such as by avoiding burnt toast or over-browned roast potatoes, following cooking advice on packaged food products carefully, and not keeping raw potatoes in the fridge.

However, the agency confirmed it was also working with the food industry to reduce acrylamide levels in processed foods such as crisps, crackers, cereals, biscuits and coffee.

"Our research indicates that the majority of people are not aware that acrylamide exists, or that they might be able to reduce their personal intake," said Steve Wearne, FSA director of policy.

"Although there is more to know about the true extent of the acrylamide risk, there is an important job for government, industry and others to do to help reduce acrylamide intake."

Welcoming the FSA campaign, the FDF said that while acrylamide "can't be completely eliminated in any kitchen", UK food manufacturers had been working with supply chain partners and regulators to "reduce its formation" for a number of years.

"Manufacturers also provide clear instructions on-pack for consumers and catering customers to follow when cooking foods at home or in commercial kitchens," said Helen Munday, FDF chief scientific officer.

A "snapshot" of the FSA's ongoing surveillance of the chemical in supermarket foods published today, and "other available data", showed some "significant" progress had been made in reducing acrylamide levels, she added.
According to the FSA surveillance data, overall levels of acrylamide in UK food products fell by 31% between 2007-2015, with the biggest reductions made on crisps, pre-cooked potato products and biscuits.

"To continue to make progress, the food and drink industry, in partnership with the European Commission, has developed detailed Codes of Practice," said Munday.

"Until these codes are fully in place, food industry partners are using a detailed food industry Acrylamide Toolkit, which sets out the acrylamide mitigation measures that they believe should be implemented by all food business operators of all sizes."