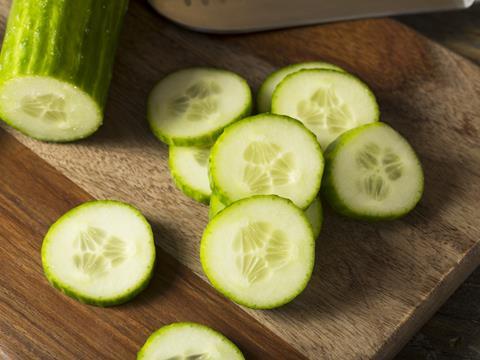 A spate of salmonella food poisoning across parts of Europe has been linked to cucumber in ready-to-eat meals. Around 150 cases have been reported so far and this number is likely to grow.
The meals seem to have been prepared in the UK, but the source of the cucumber is as yet unknown. This points to a potential growth in food safety problems around fresh produce we might expect based on the trends I have observed in the US in recent years.
I attended a food safety experts summit in the US recently and fresh produce issues were one of the key topics discussed. Professor Lee-Ann Jaykus from North Carolina State University gave an impressive insight into some of the research she and her team have conducted into finding the root causes of the issues. Her findings were surprising and in some ways uncomfortable – and as anyone who reads my column on a regular basis will know I don't mind sharing the uncomfortable…
Ask most food safety academics, regulators and food industry experts in the US why there's been such a large rise in incidents of food poisoning in the US, and most will state it's most likely due to contaminated water being used to irrigate crops or run-off from farms that rear animals. But Prof Jaykus' findings suggest it's not water that's the main problem – but workers.
So here comes the uncomfortable bit. Much of the harvesting of fresh produce in the US is highly dependent on migrant workers who get paid for the amount they harvest, i.e. by the basket load. When you get paid this way you have choices to make. One of these is, when in need to visit the toilet do you put down your basket to make what might be quite a long walk to the facilities and then walk back? It seems often the answer to this is no, and the workers will defecate in the fields. This seems fairly common practice in the US and thus one of the main causes for fresh produce-related food poisoning is due to contamination with human waste, certainly in E.coli, salmonella and norovirus related incidents.
Workers were also put front and centre in terms of issues further upstream in the food industry, particular in foodservice. In the US, employment rates are soaring and the struggle to find properly trained staff, or staff who really want to be trained in terms of understanding the importance of hygiene, is a massive issue. It was also predicted that care homes, schools and hospitals will see increases in food safety incidents as a result of these types of labour issues.
The discussions at the summit went on to think about how to deal with the many facets of fresh produce safety. Improving traceability and testing batches of produce for signs of faecal contamination were discussed and we all agreed important. Also testing the hands of workers for faecal contamination upstream and downstream was mentioned as a potential way to mitigate risk. All of these are worthy of actioning in one way or another but to me it's more about the underlying food safety culture.
Clearly in the food industry food safety culture must start from harvesting and end with the serving of food, and take into account every step along the way. Our food supply system in the UK is going to have to change due to a number of very big ticket items – climate change and Brexit to name but two. Perhaps time to think about what needs to change in terms of protecting all UK citizens, especially the most vulnerable due to the changing threats to the safety of our food.
Professor Chris Elliott is director of the Institute for Global Food Security at Queen's University, Belfast