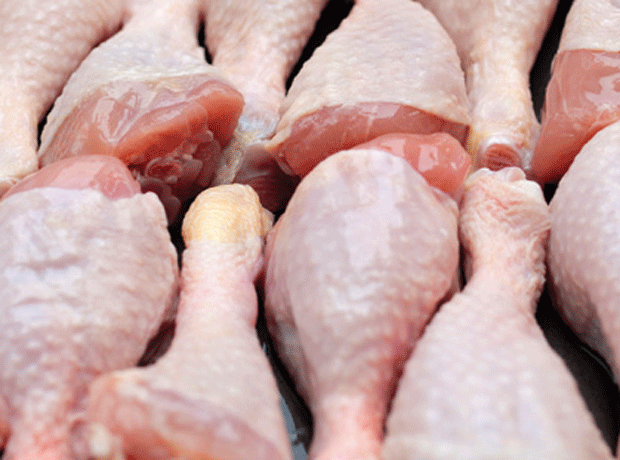 The Food Standards Agency has suspended its long-running campylobacter survey of supermarket chicken because it fears its data may no longer be accurate.
Its next set of quarterly test results – due out at the end of May – will also no longer provide a contamination rate breakdown by retailer but will instead just publish overall industry rates.
The FSA had been running its tests for the dangerous food bug – the number one cause of foodborne illness in the UK – on the neck skin because that was typically the most contaminated part of a raw chicken. However, more and more processors were now removing the neck skin, the FSA said.
While this meant consumers were potentially less exposed to the bug it also created problems with the comparability of its survey data, the regulator added. "Given that chicken samples now contain varying amounts of neck skin, it makes it difficult for us to compare fairly one retailer with another and to give accurate comparisons with previous quarterly results."
It had therefore decided to suspend its survey until it had worked out how best to proceed and how it may need to change its testing methodology in order to get an accurate picture of campylobacter rates at retail. Testing should hopefully start again in the summer, the FSA said.
Given the concerns over quarter-on-quarter comparisons in light of the neck skin issue, the FSA said it had also opted not to publish retailer-specific contamination rates in its next set of quarterly result.
"We remain committed to the publication of survey results, including retailer data, which are both useful to people but also encourage retailers to ensure the chickens they put on sale have as few campylobacter on them as possible, the FSA said.
"Additionally, in the longer-term, we will be asking industry to conduct their own testing and to publish their results to an agreed set of standards prescribed and maintained by us."
Policy director Steve Wearne added: "Tackling campylobacter remains our number one priority. The ultimate test to show whether our campaign is working is to see whether fewer people get ill. That's why we want to see 100,000 fewer cases of campylobacter each year from the end of March 2017. So there's no let up for industry: we want to see continuing efforts to reduce this bug on our chickens."
Controversy
The FSA campylobacter survey has seen its fair share of controversy, since being launched in 2014.
Plans to publish retailer data were sharply criticised by the industry initially, amid claims the campylobacter bug was too little understood for such comparisons to be valid or useful to consumers.
A spokeswoman for the FSA stressed the decision to pause the survey was made on the advice of the FSA's statisticians and there had been no pressure from industry. "Our own statisticians raised the issue. They said 'you may have a problem here. It's like comparing apples with pears'."
Campylobacter rates were coming down, and the fact neck skin was being trimmed was "a positive change that we're celebrating", she added. But it was important the survey methodology was reassessed to ensure it remained valid, she added. This was in the interest of industry.
The British Retail Consortium said: "We have always maintained that the FSA survey should be statistically robust and based on sound science. We are pleased that the retailer-led interventions are having a positive effect on reducing levels of campylobacter and we are engaging with the FSA during their review of the methodology. We look forward to the outcome of this work."
However, Richard Griffiths, policy director at the British Poultry Council, said: "We are surprised that the FSA has chosen to pause its campylobacter survey. The survey was working well and we had a good set of data. It will be a shame to not have a full set of data now."