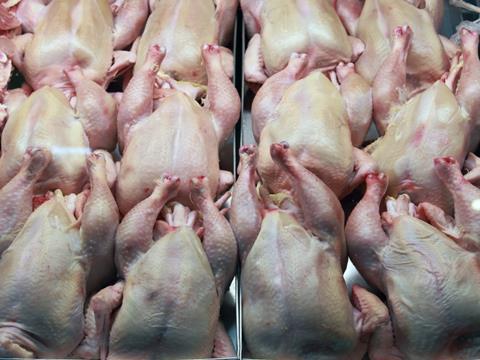 The Food Standards Agency has come under attack for deciding not to 'name and shame' retailers and suppliers in a major food safety survey on supermarket chicken.
The agency – which is currently running a year-long testing programme for the campylobacter food poisoning bug on retail chicken – had planned to publish quarterly results on the tests, detailing which retailer had sold the chicken, the abattoir where it was processed, whether the chicken had tested positive for campylobacter and the quantities of the bug found.
But at a board meeting on Wednesday (23 July), it backtracked on these plans, saying retailers and processors would now not be named until the full annual results were published next year. The quarterly results would show only cumulative data from across the trade.
Industry and other government departments had expressed concern that naming and shaming companies on the basis of data from a single quarter could be misleading and unnecessarily alarm consumers, FSA director of policy Steve Wearne said. "We believe the risks inherent in misinterpretation or presentation of incomplete data mean that such publication would not be in the consumers' interest," he added.
Industry was increasingly taking action to tackle campylobacter, Wearne added. "We believe we should now therefore focus on action that would support industry action to further sustain, strengthen and supplement their work aimed at mitigating this significant public health risk."
The proposal sparked heated debate at the FSA's board meeting – with some board members expressing strong concern about backtracking on previous publication commitments – but the board, led by chairman Tim Bennett, ultimately agreed in favour of not disclosing names in quarterly results.
Consumer campaign group Which? condemned the move, urging the FSA not to "sit" on data that was in the public interest. "The FSA was set up because of concerns about commercial and political interference in decisions about food safety," Which? executive director Richard Lloyd said in a letter to the FSA board. "It is with great regret that it has become necessary to remind you of your role to put consumers first, be independent and operate transparently."
In March, FSA chief executive Catherine Brown said the agency was experiencing significant "push-back" from the industry on its plans for publishing test results, but vowed it would press on "with steely determination" regardless. "We are experiencing a good level of push-back from people in industry, but we will do it anyway because we know it is in the interest of the consumer," she said at the time.
Campylobacter is the biggest cause of food poisoning in the UK, and the FSA has made it its number-one priority to reduce contamination levels.
Commenting on its decision not to name companies in its quarterly results this week, a spokesman for the FSA said:
"The FSA is committed to publishing the full results from its survey of campylobacter on shop-bought chickens, including names of retailers and processors. However, quarterly results cannot be interpreted in a meaningful way, so breaking results down by retailer and processor at this stage could mislead consumers. The FSA Board today agreed with this position but called for the final results to be delivered sooner than previously planned. The FSA is now considering how to revise the survey sampling so that full results can be delivered more quickly. The first quarterly results will be released as planned without company names in the next few weeks."
The Guardian exposé
The FSA's u-turn on publishing test results comes as The Guardian published a major exposé on campylobacter this week. The piece alleged to have uncovered evidence of food safety breaches by processors supplying chicken to major supermarkets, prompting a number of retailers to initiative urgent investigations of their poultry supply chains.For industry responses to the claimes, see here.