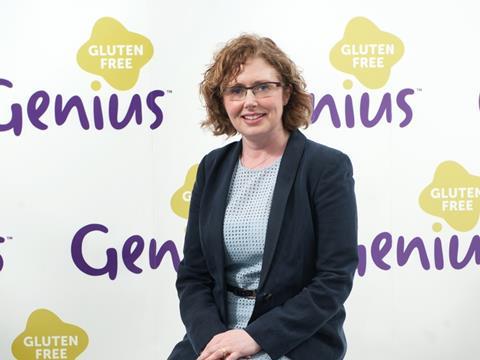 In an incident that shocked the free-from market, a raft of branded and own-label products manufactured by leading supplier Genius Foods were pulled from shelves last week.
The recall of 24 products - including Genius branded crumpets, Livwell branded lines and own-label products from the big five retailers - has damaged consumer faith in what had been a beacon brand for gluten-avoiders, with many outraged and distressed by the incident.
Speaking exclusively to The Grocer, Genius Foods CEO Roz Cuschieri explains how the contamination took place, how trade partners reacted, and how the business is hoping to rebuild trust among coeliacs and gluten-avoiders.
RC: It has been a challenging week – no more so than for our consumers and retailers as well as Genius. We have upset a lot of consumers and it is our job to rebuild that trust and confidence. I'd like to start by expressing my sincere apologies to all of your readers any consumers and our customers who have been impacted by the events of the last week; it's not what Genius is about, we are in the business of making lives better and easier.
What was the source of the contamination?
A small quantity of dry ingredient that had very low levels of gluten in it made its way into our bakery. It's a commercial, industrial-scale ingredient that's not for sale in the supermarkets and does not pose any risk to consumers, a fact we have been at pains to share with consumers. I can't share any more information on the ingredient.
In one of your statements you said this was not a supplier issue – how did an ingredient containing gluten enter your bakery?
The incident happened as a result of human error – we are conducting a full investigation to understand how it happened and ensure it doesn't happen again.
How much time passed between the contamination and you becoming aware of it?
We have a routine, regular set of testing protocols that happen as part of the day-to-day course of business. As soon as our testing procedure highlighted the low-level trace of gluten we acted very quickly. The most important thing to do was to identify the source, remove it, cease production and then clean down. While that was happening we immediately informed our retail partners and the FSA, who have procedures and protocol that they work to. We then spoke to our consumers as quickly as we could to alert them to the issue through Facebook and other social channels. Charity Coeliac UK has also been very helpful into helping us to communicate with consumers quickly.
Why was the recall announced in two stages? (A second batch of products was recalled days after the original notice)
Testing protocols take some time and for a purely precautionary set of reasons we added an additional set of products to this test to mitigate any further risk to consumers. We then shared the results with our retailers. I can't speak on behalf of products that we make for retailers, we provided the results to the retailers and it is their call to make – I would stress that this was purely a precautionary measure.
How will you prevent a similar contamination happening in future? What changes have you made to working practices?
We have a rigorous testing procedure in place and arereviewing every step and point involved in that internal practice. We have reviewed our internal testing facility, the external laboratories that we use, and all of our materials are tested and checked and we are reviewing the whole testing protocol and supply testing chain. We are very confident, having done the exercise, that the right checks are in place and the improved procedures we have put in place are being followed.
Can you say what the direct financial cost of the recall will be to the business?
We can't put a cost on it yet – it was less than two weeks ago and it is just too early to say.
There are clearly a lot of upset customers out there – including some claiming contaminated products made them ill. Are you looking to compensate consumers in any way?
We have a number of coeliacs that work for us within the Genius business, including Lucinda [Genius founder Lucinda Bruce-Gardyne] who has two boys with severe allergies to gluten and dairy, so we feel this very acutely. We are very keen for any affected consumers to get in touch – we have loads of ways for them to do that. I think it is very important we speak to consumers in an individual way so we can understand their specific concerns and deal with the right solution for that consumer dependent on their particular circumstance.
We have a large customer care team for the size of business we are, because gluten-free and free-from is a very involved business and consumers look for a lot of input and have a lot of questions in general. I'm delighted we have such a focused and engaged customer care team who are working tirelessly to speak to consumers about their particular case. We will pick up with each consumer on an individual basis.
How damaging do you feel this will be for the brand?
The events have impacted the trust our retailers and consumers place on Genius so there will be an impact and we want to do everything we can to fix this - and we are not underestimating the challenge we have ahead of us. We have got a big job to do in rebuilding trust and confidence with consumers and customers and have started that journey.
Have you seen any drop-off in sales as a result of the incident? Do you expect to?
It is too early to say [what effect this will have on sales] but we are not underestimating the impact it could have.
Have any retailers delisted Genius products, or those you supply under other labels, following this incident?
They haven't. While what happened should never have happened, our retail partners are working very closely with us to understand what we are doing as a result and to get production back on track, which is happening as we speak. The recalled Genius products are back in the market and we are producing the majority of retailer lines now.
Retailers have appreciated the way in which we have operated as a business in a truly transparent way. They have worked with us from an understanding perspective – we are very grateful for their understanding and cooperation and I would like to thank them for the way they have worked with us.
Our job is to build sales and velocity back as quickly as we can. The activity we are putting in place and the way we are looking to engage with our retail partners should deliver that.
How do you now plan to repair the damage to the brand and rebuild trust?
We are here to make life easier not more challenging, and we need to rebuild the consumer's perception in that regard.
We have been engaging very actively with our customers and we need to be very proactive in that way. We are working through a very detailed marketing plan that will involve engaging directly with the consumers who have been most impacted. We also have programmes of activity that we are discussing by retailer. We are looking at different ways of rebuilding confidence that could involve in-store activity, online, to coupons – lots of different things.
Our relationships with retailers, customers and consumers is hugely important to us and our activity will be very focused around those relationships.