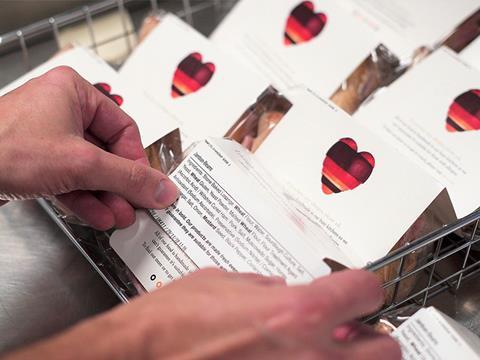 It's been two months since Pret a Manger promised to overhaul its food labelling policy in response to the tragic death of teenager Natasha Ednan-Laperouse. And after what seems like a long spell of silence, the sandwich chain's CEO Clive Schlee announced on Friday the company had finally rolled out its first full ingredient labelling pilot in a store in Victoria.
Given the urgency of the situation, with coroner Dr Séan Cummings warning there could be further deaths unless Pret took action to address the issues raised, two months seems like a long time. And this isn't even a nationwide scheme; it's a pilot in one store.
But Schlee's blog on the launch reveals just what a mammoth task the chain is facing. Every day, teams in more than 350 Pret stores make up small batches of sandwiches and salads (typically 12-15 at a time). That's a lot of people on the front line. And that means a lot of scope for human error.
Minimising that risk of human error will be crucial if Pret is to succeed in its aim to prevent further incidents. As Schlee says, "the wrong label on the wrong sandwich can be worse than no label at all". Pret also has to balance the need for safety with the need for speed, which Schlee admits is still "of the essence" for a business like it.
Currently, the new process means staff in each store will make up batches of salads and sandwiches, scan batch codes to print the correct labels and place them on the wrapper manually. Every label is then checked by a manager before leaving the kitchen. Schlee admits the early versions of the labels "are a bit clunky" and the pace is slow, but Pret hopes to refine the process after getting feedback from customers.
"We will refine the labels, make sure they go on to a sensible place on the packs, and take a good look at technology solutions as well," he says. "That's why we are testing different approaches before we roll out new labels nationwide."
It makes sense. Rather than rushing into a nationwide scheme and possibly making more mistakes, Pret wants to iron out any problems and see exactly where the risks lie – both for customers and its business efficiency.
The sandwich chain also appears to be in good hands with ex-FSA CEO Tim Smith, who is putting together a Food Advisory Panel to explore the food safety issues related to allergies. His recommendations will be no doubt be invaluable – not only for Pret, but for the wider industry.
The government is also on track with its review of UK labelling laws. Environment secretary Michael Gove and food minister David Rutley held a roundtable meeting with allergy groups, specialists and industry stakeholders to discuss options for the new rules last month.
Gove said Defra still planned to bring its proposals forward early next year, though he stressed once again businesses didn't have to wait for the law to change to do the right thing and make sure consumers have the information they need to stay safe.
Let's hope these small, but incremental, steps are enough to prevent another tragedy.