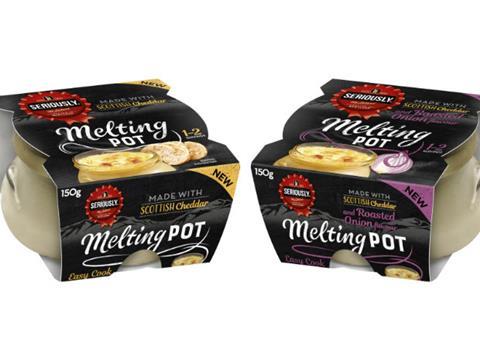 Lactalis McLelland has suspended production of its new Seriously Cheddar Melting Pots over fears its glass packaging could break while heating.
All batch codes were recalled shortly before Christmas, with PoS notices asking consumers not to eat them due to a "potential safety risk" and to return any unused pots.
The French-owned dairy giant confirmed it had suspended sales of both Original and Caramelised Onion variants "until further notice". The temporary removal would allow for time to investigate a "small risk the glass pot may break when heated", it said.
The melting cheddar pots had been on sale in Waitrose, Sainsbury's and Asda, in addition to a range of c-stores prior to the withdrawal.
"As consumer safety is our top priority we have taken the precautionary measure to recall the Seriously Melting Pots," said Lactalis MD Hugues Meaudre.
"All retailers have been informed and customers who have purchased a product but not used it have been invited to return the items to the store where they bought it for a full refund."
Lactalis debuted the pots in October last year, rolling out the Scottish cheddar blends in "environmentally conscious" glass pots described by the brand as microwaveable and oven-ready.
The Continental-style cheddar pots had been in development for a year before their rollout, aiming to bring cheddar to a new market, while tapping into increased demand for quick and convenient hot cheeses.