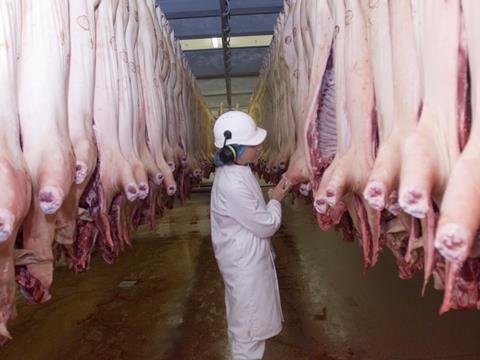 Mandatory CCTV in slaughterhouses is set to go ahead under new animal welfare proposals unveiled today by environment secretary Michael Gove.

As part of measures to "cement the UK's position as a global leader on animal welfare", all slaughterhouses in England will have to install CCTV and grant the FSA's official vets unrestricted access to the footage.

It is hoped the move, which has been under debate by policy makers for years, will help the FSA better monitor and enforce welfare standards in abattoirs. If vets find any evidence of a breach of welfare, they can give the slaughterhouse a welfare enforcement notice, suspend or revoke its staff's licences, or refer it for a criminal investigation.

The government will also overhaul statutory animal welfare codes for livestock and domesticated pets to reflect enhancements in medicines, technology and the latest research and advice from vets, Gove confirmed.

"We have some of the highest animal welfare standards in the world and the actions I am setting out today will reinforce our status as a global leader," he said. "As we prepare to leave the EU, these measures provide a further demonstration to consumers around the world that our food is produced to the very highest standards."
Essential tool
Defra's proposals on mandatory CCTV come after the FSA last year changed its position on the issue, arguing voluntary adoption of the technology - which it had previously supported - had "plateaued".

"We look forward to the introduction of a comprehensive requirement for using, accessing and retaining footage from CCTV in abattoirs," said FSA chair Heather Hancock. "We see CCTV as an invaluable management tool for business owners to help with compliance with official controls and to improve animal welfare standards across the industry."

The move, which will now be under consultation until October, was warmly welcomed by groups that have been long campaigning for the technology, including the British Veterinary Association and Compassion in World Farming.

"Mandatory CCTV in all areas of slaughterhouses will provide an essential tool in fostering a culture of compassion that could help safeguard animal welfare and we are particularly pleased to see a commitment to official veterinarians having unrestricted access to footage," said BVA president Gudrun Ravetz.

"We are absolutely thrilled that Defra has recognised the need for CCTV within slaughterhouses," added Emma Slawinski, CIWF director of campaigns. "Sadly, all too often undercover investigations show animals being subjected to abuse and cruel treatment in slaughterhouses, in breach of legislation and compassionate practice,"

Mandatory CCTV would provide "crucial transparency" to ensure legal protections were not being flouted, she claimed.

However, British Meat Processors Association CEO Nick Allen pointed out many abattoirs already have CCTV in place.

"Simply installing CCTV in itself is not a solution in its own right if it is not used correctly." he added. "The industry has been working with the FSA to establish the best way to maximise the benefits, a training package has already been agreed with the FSA and it is being rolled out. We will continue to do work with the FSA on CCTV knowing that this will give the consumer greater confidence in our produce."

The proposed overhaul of the chicken welfare code is also under consultation until September, with plans to update welfare codes on laying hens, pigs, dogs, cats and horses over the next year.