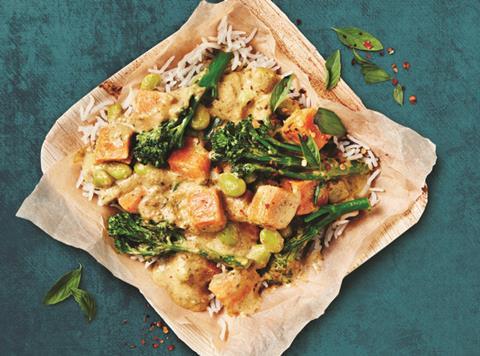 As PR own goals go, headlines highlighting that your new range of supposedly vegan products might not be suitable for milk and egg allergy sufferers is about as bad as it can get.
That's exactly what Marks & Spencer had to contend with yesterday, after The Sunday Times pointed out a number of products in its new flagship Plant Kitchen vegan brand "may not be vegan at all".
The 60-strong plant-based range, launched last week to coincide with the start of Veganuary, was pitched as a brand that "tastes as good as you'd expect from M&S", while also being vegan-friendly, "so finally people don't have to compromise on taste".
But there was one big problem. Some people may indeed have to compromise, as M&S had added labelling to dishes such as its cauliflower popcorn, green Thai curry and mushroom stroganoff warning traces of milk and egg "may be present in the environment" in which the meals were made.
Many people on Twitter were enraged, accusing the retailer of "misleading" shoppers. And, indeed, one could argue M&S should have seen this one coming.
The M&S 'plant kitchen' mushroom stroganoff' is BANGING. But saying it's vegan when it clearly says on the back 'not suitable for milk or egg allergy sufferers' tsk tsk @marksandspencer

— Chloé Paige (@chlooeeeexo) January 7, 2019
However, after last autumn's Pret affair, when the sandwich chain's insufficient allergen policies and procedures were linked to the tragic death of teenager Natasha Ednan-Laperouse, it's almost understandable that M&S erred on the side of caution with its allergen labelling.
M&S points out it engaged with both Allergy UK and the Vegan Society during the development of the Plant Kitchen brand, and the Vegan Society stresses it is "not against foods labelled as vegan also carrying a 'may contain' warning about animal allergens".
A spokeswoman for charity Allergy UK adds the organisation welcomes the level of food labelling seen on M&S's Plant Kitchen "as it enables people living with food allergies to know what they are getting". Shoppers should never make assumptions over the allergen content of vegan food, she insists.
And that is, of course, the heart of the problem. Some shoppers may (understandably) take 'vegan' to be mean free of all dairy and meat traces , but M&S's labelling stance makes clear no such assumptions should be made.
As veganism becomes ever more mainstream, resulting in an explosion of new product launches and pressure on production capacity, more and more players will resort to non-segregated production, employing factories that produce vegan as well as non-vegan foods in the same facility. That doesn't need to be a problem, provided the risks are communicated clearly.
That is why ensuring everyone – particularly people with food allergies and those preparing foods for people with allergies – understands that 'vegan' isn't shorthand for 'allergen-free' must now be an urgent priority.
M&S may have ended up in the firing line on this occasion – and a wider debate about what 'vegan' foods should and shouldn't contain, and how they should be produced, is no doubt in the offing - but at least it did its bit to flag up allergen risks to vulnerable consumers.