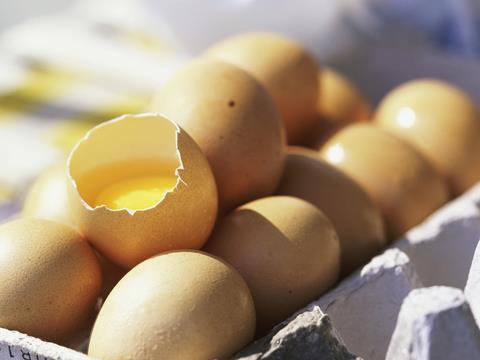 A swathe of new products could be set for withdrawal after the Food Standards Agency issued new guidance for manufacturers and retailers in connection with the fipronil egg contamination scandal.
A new 15% threshold stipulates that any product made with eggs from affected farms in the Netherlands – where the amount of egg accounts for 15% or more of the product and the product is still within date – now needs to be withdrawn, unless the manufacturer can prove the product does not exceed the EC maximum on fipronil residue.
The 15% threshold is being calculated on a whole egg equivalent basis and as consumed. The FSA is making available a calculator tool to manufacturers to enable them to work out whether any of their products need to be withdrawn.
Manufacturers were given a deadline of yesterday (23 August) to report any products that fall under the new threshold, and the FSA has today announced the withdrawal of six further products, which were distributed to catering outlets. They include liquid egg products from Braeforge and Oliver Kay. More products could follow in the coming days and weeks as manufacturers apply the new threshold and work out if any of their products are affected.
Prior to today, 25 products had been withdrawn in the UK over the fipronil scandal. These were primarily products with short shelf lives, such as egg salads and sandwich fillers, whereas the new threshold will also capture finished products with longer date codes, such as cakes and meringues. The full list of products to have been withdrawn can be viewed here.
FSA CEO Jason Feeney told The Grocer the threshold was a "cautious but proportionate" response to the fipronil scandal, which has seen millions of eggs and egg products withdrawn across several European countries over fears they could be contaminated with insecticide. Feeney reiterated the FSA's guidance that the risk to public health from the fipronil scandal was low, and consumers did not need to change the way they were buying eggs or egg products. The 15% level takes into account potential exposure to fipronil not just by adults but also small children.
Feeney was unable to provide an estimate of how many products would ultimately need to be withdrawn based on the new threshold, but said the new guidance covered "egg in all its forms", including liquid and dried, and the potential list of categories affected was long. "This is about resolving a retrospective issue," he said, adding the threshold would help create greater clarity for industry as well as consumers.
The FSA says eggs were distributed to the UK from implicated farms in the Netherlands between March and August this year. Affected farms have been operating on a positive release system since the scandal became public knowledge in early August.