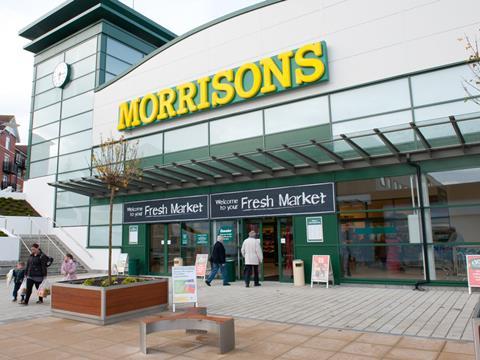 Morrisons has come under fire for selling kangaroo meat, which campaigners claim poses a risk to human health and raises serious animal welfare concerns.
Vegan group Viva! has directed a long-running campaign against the sale of kangaroo meat by Iceland and Lidl, and held protests outside Iceland stores earlier this year.
The group was quick to pounce on Tesco when it listed Highland Game kangaroo burgers last month, and said the retailer responded to its concerns by "almost immediately" pulling the product from shelves.
Viva! has now turned its attention to Morrisons, which recently launched kangaroo steaks from Holme Farmed Venison.
Viva! campaigns manager and deputy director Justin Kerswell said the group was "particularly concerned" that Morrisons was recommending the Holme Farmed Kangaroo Steaks be served "medium rare to retain moisture and flavour".
The group has written to Morrisons CEO David Potts pointing to evidence suggesting kangaroo meat is often riddled with salmonella, e.coli and toxoplasma gondii, which can lead to toxomaplosis.
Kerswell said the group had so far recieved no response from Morrisons, which was "particularly concerning given the fact that we raised the issue that the cooking instructions they are suggesting may be opening up their customers to associated health risks, especially pregnant women and those with weakened immune systems."
Kangaroo controversy
Viva! and other critics including welfare groups, senators and celebrities, claim Australia's kangaroo harvest is cruel, unsustainable and unhygienic.
Shooting is unmonitored and done in the dark, and estimates from RSPCA Australia suggest that hundreds of thousands of animals are not shot in the head and killed immediately.
Australian government guidelines dictate that when females are shot, baby 'joey' kangaroos must be pulled from their mother's pouch and bludgeoned to death or decapitated. Adolescents should be shot, but critics claim they are often left by hunters to starve.
Although kangaroos are viewed as a pest in Australia, the ongoing drought has put pressure on populations and there have been reports of localised extinctions in some areas. Critics warn that any growth in demand for kangaroo meat abroad could spell disaster for the mammal.
Earlier this year, the Australian press reported that investigations by the NSW Food Authority had uncovered "numerous" breaches of hygiene and safety rules by kangaroo hunters. Testing of kangaroo meat on sale in Australian supermarkets has found high levels of E.coli and salmonella.
Russia has banned kangaroo meat after testing repeatedly found high levels of pathogens, and the US state of California recently renewed a ban on all kangaroo products after a group of 70 international scientists, academics and public figures signed a letter to lawmakers highlighting animal welfare and human health concerns.
Kerswell said he hoped to put together a similar letter to send to UK retailers in a bid to demonstrate the "widespread" concerns about kangaroo meat.
He added Viva! would also not hesitate to take action against supermarkets that sell kangaroo meat, including demonstrations and boycotts.
Kezie Foods, which supplies kangaroo burgers to Iceland, said allegations of cruelty were "simply not true". It claimed export meat plants work with licensed professional shooters who follow a strict code of practice, and said regular aerial assessments of kangaroo populations are conducted so sustainable shooting quotas can be set.
The company also said it only worked with suppliers who are members of the Kangaroo Industries Association of Australia and operated a 'male only policy'.
Morrisons, Tesco and Highland Game all declined to comment, while Holme Farmed Venison, Iceland and Lidl did not respond to requests for comment by The Grocer.