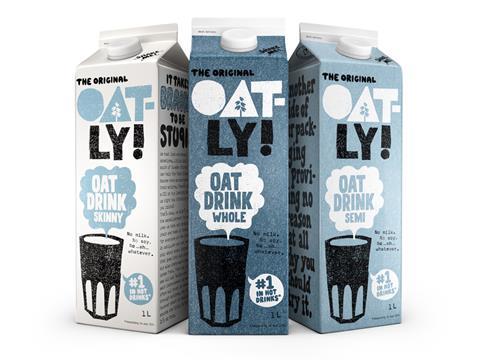 Oatly has been forced to recall a batch of its Oat Drink Whole this weekend, after fears were raised that the drinks could contain pieces of metal.
The batch affected was sold at Tesco stores between 15 March and 22 March. While Oatly said the incident was "definitely" isolated to 228 cartons distributed from a single Tesco depot, the retailer's protocol was to recall the entire batch, said the brand.
Potential contamination had resulted from damaged equipment on its product line, the dairy alternative supplier said. It advised customers who had bought its chilled Oat Drink Whole in Tesco between those dates not to drink it, but to pour the contents away and return the carton for a refund.
"The risk is very small, however we always put safety first and want to make sure we eliminate any risk," said the brand's communication manager, Linda Nordgren. "No further stock was impacted on the affected production line, or any of our other products."
The batch affected has a best before date of 29 April 2019. On its forum, Oatly allayed concerns of customers who had purchased products with the same BBE date from other stores, saying they were safe to consume.
Oatly launched its Oat Drink Whole in autumn last year, aiming to replicate the whole, semi and skimmed fat contents familiar to consumers of dairy milk. The recall comes just days after Oatly unveiled its 'Ditch milk' campaign featuring what was "arguably its most anti-dairy messaging yet" ahead of this weekend's upcoming London Coffee Festival.