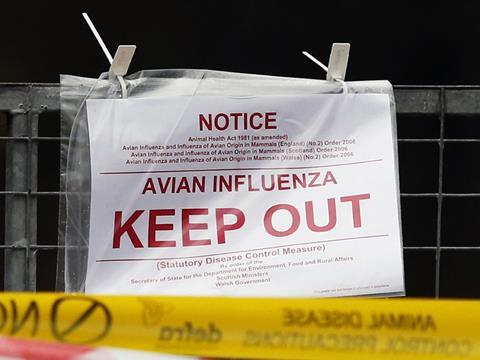 An outbreak of bird flu has been confirmed on a poultry farm in Lancashire.
A suspected case was first reported on Friday (10 July), prompting the start of a precautionary cull of 170,000 birds at a farm near the village of Goosnargh.
Defra confirmed on Monday morning (13 July) the H7N7 strain of avian flu had been found on the farm, and that it had imposed a 10km surveillance zone and an inner 3km protection zone at the site.
Culling of all birds on the farm which started on Friday, was continuing today, it added, with restrictions in place to prohibit any movement of poultry, captive birds or other mammals within the control zone except under licence. An investigation into the case was ongoing, Defra said.
The H7 strain can infect humans, but chief veterinary officer Nigel Gibbens and the FSA both said the threat was low.
"Restrictions put in place last week will continue and the humane culling of all birds at the site is progressing," Gibbens said. "These actions are part of our tried and tested approach to dealing with previous outbreaks."
He added bird keepers "should remain alert for any signs of disease, report suspect disease to their nearest Animal and Plant Health Agency (APHA) office immediately and ensure they are maintaining good biosecurity on their premises".
This case comes after a 'low severity' case of H7 strain avian flu was detected on a chicken farm in Hampshire in February, while 6,000 ducks were culled on an East Yorkshire farm last November after an outbreak of the H5N8 strain.
Also last November, outbreaks were detected on five farms in the Netherlands, leading to a cull of more than 100,000 birds. And the US has had to slaughter more than 46m chickens and turkeys since last December as a result of its own outbreak of avian flu.