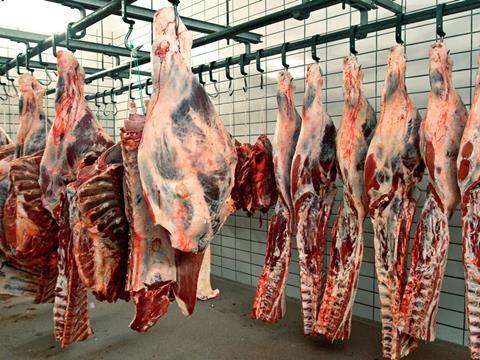 Poland's 'sick cow' scandal is spreading fast. So far, none of the meat from the abattoir in the Polish town of Ostrów Mazowiecka accused of illegally slaughtering sick cows has been traced back to the UK. But as investigations continue, the number of countries continues to grow.
On Friday, authorities confirmed 10 countries had imported beef slaughtered at the facility, which has now been closed down. By Monday, that number had grown to 14 – with the Czech Republic, Estonia, Finland, France, Germany, Greece, Hungary, Latvia, Lithuania, Portugal, Romania, Slovakia, Spain and Sweden all now affected.
And while Polish authorities insist the incident was "isolated", the undercover journalist who exposed the illegal practices at the abattoir has warned the practice of slaughtering sick cows for export could be more widespread. Patryk Szczepaniak, who spent three weeks working undercover at the slaughterhouse, told The Guardian he had received "dozens" of reports of similar activities going on elsewhere in Poland since his footage was shown on news channel TVN24.
If that turns out to be the case, this will be the biggest meat scandal in Europe since Horsegate – and a stark reminder of just how vulnerable our food supply chains are to illegal, and potentially dangerous, activity.
However, just as with Horsegate, efforts to minimise the impact of the scandal on consumers have been greatly aided by pan-European cooperation on food safety issues. Poland used the EU's Rapid Alert System for Food and Feed (RASFF) to alert countries that had imported meat from the slaughterhouse, enabling the authorities in those countries to act swiftly. And the Polish authorities are already receiving help from the European Commission, which has sent inspectors to Poland this week to "assess the situation on the ground".
There is a risk that when the UK leaves the EU we will step outside that safety net. The government is yet to confirm whether we will continue to participate in the EU RASFF after Brexit, and experts have warned a no-deal exit could affect our access to European research and intelligence on emerging food safety risks – both within the EU and globally.
There is an argument, of course, that the UK will be better protected because we'll be able to check all of the food we import from Europe, which is currently more difficult because of the open market. But, as Professor Chris Elliott has pointed out, cutbacks in public expenditure mean we don't have "an army of port health inspectors and environmental health officers" to undertake these sorts of stringent checks.
And threats aren't just emerging in Europe. Brazil, which is very keen to sign a free trade deal on beef with the UK after Brexit, has been plagued by its own meat scandals, while Dyfed-Powys Police in south west Wales have recently released images of an 'illegal slaughterhouse' operating in Pembrokeshire.
It's all evidence that we mustn't let Brexit distract us from the potential threat of food fraud and illegal activity in supply chains. And we should be lobbying MPs to make sure that even if we do crash out of the EU with no deal, we have a plan in place to make sure the UK isn't left in the dark when future scandals hit.