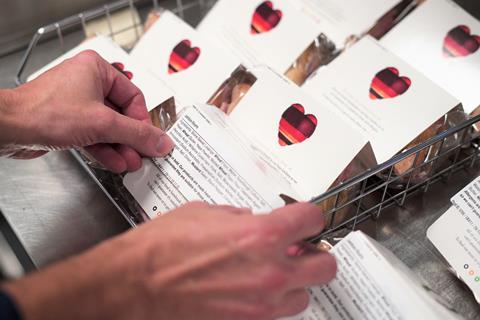 Pret a Manger is set to complete its national rollout of full ingredient labelling this week.
The chain committed to the move in the wake of last year's inquest into the death of Natasha Ednan-Laperouse, who collapsed after eating a Pret baguette in 2016.
Since November, Pret staff have labelled over 30 million products, it claimed. Individual recipe cards enable team members to prepare food in kitchens on site and print off bespoke labels, while new tablets keep a record of each product that leaves the kitchen.
The initiative forms a key part of Pret's Allergy Plan, launched in May this year.

The plan sets out five priorities for Pret to help people with allergies. They include the launch of the menu tablets in every shop, the removal of allergens from a range of Pret products and a commitment to produce quarterly food safety reports.

The completion of the full rollout comes after the government announced earlier this month that new legislation would come into force in October 2021 requiring food businesses to fully label all food pre-packed for direct sale.
"When we launched the Pret Allergy Plan, we said we would learn from the past and make meaningful changes to help customers with allergies," said Pret a Manger CEO Pano Christou. "In less than a year, we have made the biggest change to Pret kitchens in our history.
"Software developers have created new labelling technologies. Walls have been knocked down to provide extra space in our kitchens. Electricians have been to every shop, weaving wires through some of the oldest buildings in the UK. It has been a real team effort.

"I know it's been challenging for our shops while we've made all these changes. I want to thank every team member for what they have achieved. Our task now is to keep delivering on the Pret Allergy Plan.

"Pret's commitment is absolutely clear: to make sure that every customer has the information they need to make the right choice for them."

Tanya Ednan-Laperouse, who set up the Natasha Allergy Research Foundation following her daughter's death, said: "One year on from Natasha's inquest, we are extremely pleased that Pret a Manger has delivered on its pledge to learn the lessons and bring meaningful change for all allergy sufferers. Pret has shown that with a strong corporate determination to do the right thing, the food industry is capable of providing the necessary full allergen and ingredient labelling to give consumers the appropriate information and choices.

"Their research also shows 88% of the public support Natasha's Law, making it the most important priority for food retailers and customers amid the growing epidemic of allergies in the UK.

"Pret has taken the lead and we urge others to follow suit and prevent families in the future from suffering as we will always do."