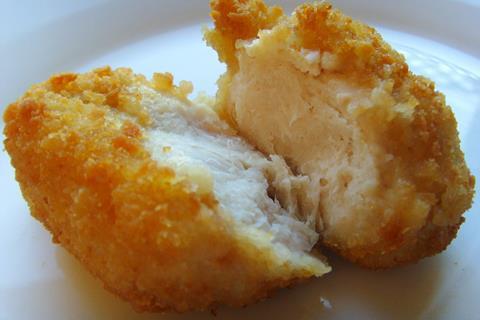 Quorn has claimed it was a victim of sabotage after a chicken nugget was found in a pack of its meat-free sausages.
Matthew Barlow, the Kent-based customer who bought the product, had not eaten meat for 20 years until he unwittingly took a bite of the nugget, the Daily Mail reported on Friday. Barlow told the paper he thought a factory worker was responsible for putting the nugget in the packet "to prank a vegetarian".
Quorn initiated an investigation after the incident was reported, sending a courier to take the nugget for lab testing, which confirmed the presence of meat. However, a subsequent review of CCTV and the questioning of factory staff was "inconclusive in terms of the source of the chicken nugget", it said in a statement.
Though more than 90% of Quorn's products were produced in meat-free factories, its cocktail sausages product was one of a minority made in a factory that also handles meat, it added.
Quorn also stressed it had strict segregation procedures, approved by both The Vegetarian Society and The Vegan Society, which meant accidental cross-contamination would be "impossible". Its measures include dedicating staff to vegetarian lines, only allowing production of other vegetarian products to run on adjacent lines and deep cleaning before production.
There were no chicken nuggets being produced in the factory at the time, Quorn said, suggesting the inclusion of a chicken nugget could not be the result of accidental cross-contamination. The only feasible explanations for its presence were deliberate introduction by a factory employee, at the retailer, or after it had been purchased, said a spokesman.
"The safety and wellbeing of our customers is of the utmost importance to us, which is why a full investigation was launched, our production facilities were alerted," he said.
The failure to spot the nugget will raise further questions over cross-contamination measures on vegetarian and vegan production lines. It follows findings of trace amounts of meat within Tesco's vegan Wicked Kitchen range last year, while the M&S Plant Kitchen range was advertised as "not suitable for milk or egg allergy sufferers".