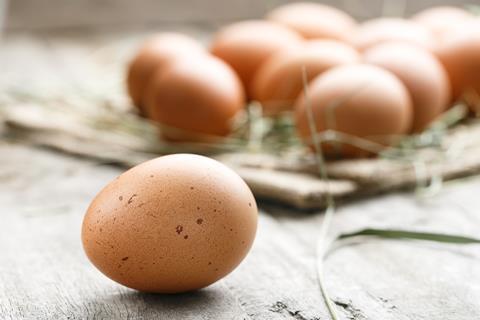 A "limited number" of British Lion eggs could contain salmonella, the FSA has warned.
The precautionary advice applies to class A eggs with best before dates from 22 to 24 September, from flock code 1UK11871.
In a statement, the FSA advised consumers "to cook these eggs thoroughly" to eliminate the possibility of salmonella. It also urged people to follow "good hygiene and egg handling practices" when preparing them, including washing hands before and after cooking.
It came after The Guardian and The Bureau of Investigative Journalism obtained official records showing at least 45 consumers have been made ill by the bacteria since January, with health officials tracing the outbreak to contaminated eggs and poultry farms.
Egg company Fridays Ltd was one of the firms implicated, with three farms in its supply chain along with its packing factory reported to have been contaminated.
The Kent-based firm declined to comment to The Grocer but told the Guardian: "Like all responsible UK egg farmers and egg packers, we carry out regular testing of our firms and those of our suppliers … Salmonella occurs naturally in the environment. However, with regular precautionary testing, vaccination of hens and rigorous control procedures, its prevalence in farming can be minimised."
Fridays also confirmed it had removed the famrs from its supply chain and disinfected its factory.
Responding to the report and FSA advice, a spokeswoman for the British Egg Industry Council said the organisation had taken steps to reduce the chances of the bacteria reaching consumers.
"Earlier this year, a small number of samples were traced back to a small number of farms in the south and a packing station.
"Once they were identified, the British Egg Industry Council took immediate action to suspend the farms concerned and remove any eggs from the food chain.
"Since then, the British Egg Industry Council has introduced additional, enhanced testing and auditing to minimise the risk of it happening again."
The news comes two years after the FSA changed its advice to say British Lion quality eggs were safe to be eaten runny or raw by vulnerable groups, including pregnant women and children.
In 1988, the then junior Conservative health minister, Edwina Currie, sparked a public health scare by saying most of the UK's egg production was "affected with salmonella".