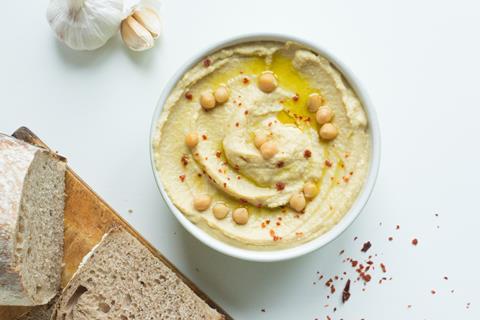 Public Health Wales has today started a "widespread and rapid" testing of all staff at Gwent-based houmous and dip manufacturer Zorba Delicacies, after four Covid-19 cases were linked to the business yesterday.
Though PHW stressed the cases did not yet constitute an outbreak, it said four lab cases associated with the company had prompted further investigations into the Zorba business – which supplies a range of own-label products to the mults and to foodservice operators from its factory in Ebbw Vale.
"Investigations are ongoing as to the possible cause of the incident, and no firm conclusions can be reached at this early stage," said PHW consultant for communicable disease control Dr Rhianwen Stiff.
"Close contacts of confirmed cases have been contacted through the Test, Trace, Protect process and provided with additional advice," she added, while stressing the testing of staff was being undertaken with "the co-operation of Zorba Delicacies".
Stiff added public health officials expected to see clusters in settings such as workplaces as the country moved into the recovery phase of the pandemic.
"We manage any cluster of coronavirus appropriately, including by providing advice around infection prevention and control, and by supporting contact tracing where required," she added.
PHW also reiterated the importance of observing social distancing guidelines, including avoiding car sharing with non-householders and ensuring social distancing was maintained on entry and exit from workplaces and during break times.
Zorba – which had not responded to The Grocer's request for comment at the time of publication – hit the headlines last November amid a major product recall of more than 100 supermarket own-label houmous products after testing revealed possible contamination with salmonella. Some 490 staff are employed by the business, according to the BBC.
The cases at the South Wales-based supplier follow a series of outbreaks at food manufacturing plants since the start of lockdown in March, the most recent of which centred on Herefordshire-based veg grower AS Green a fortnight ago.
It comes as trade union GMB last week called for an "urgent review" into food sector Covid-19 outbreaks after warning industry "cannot wait any longer".
GMB is calling for a "thorough review of the guidance for food and meat processing, including how current business models contribute to the outbreaks". The union has argued that failure to pay sufficient amounts of sick pay is a key cause of the outbreaks.
"We can't put this off any longer. We wrote to environment secretary George Eustice three months ago [to call for a review] and since then we've seen major outbreaks in Bradford, Barnsley and North Wales linked to the industry," said GMB national officer Eamon O'Hearn.
"In the next few weeks, the industry is going to come under further pressure to deliver extra capacity as the hospitality industry slowly comes back on-stream," he added.