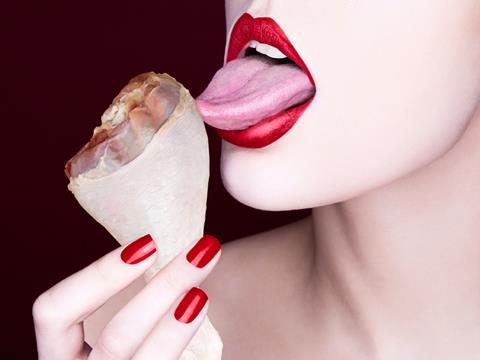 Shocking image isn't it? Deliberately so. We all know that sex sells. Whether it's M&S or Haagen Dazs, retailers and brand owners have played on the sexual frisson food elicits. Food porn is a cheap, harmless thrill.
But what happens when you combine sexual titillation with the deadly serious subject of food poisoning?
It gets noticed. It got your attention, didn't it?
The image above, mocked up by The Grocer's art desk, was met with a mixture of revulsion and laughter in the office. Revulsion because of the dangers inherent in licking a chicken. Laughter because it's absurd. No-one in their right mind would do such a thing. Would they?
Actually, they might. Last week, a Which? report found that just 33% of consumers had heard of campylobacter.
Which? was using this statistic to support the FSA's efforts to name and shame supermarkets over the high levels of campylobacter it had found in chickens. Yet, as I argued in a leader last week, the statistic, far from being a killer fact to support the FSA's position, is actually a damning indictment of it.
Instead of properly educating consumers on the dangers of eating raw chicken, the FSA is hell bent on reducing campylobacter levels. But even if levels of campylobacter do fall, raw chicken is still dangerous, unless it's eliminated entirely. And if that happens at all, it certainly won't happen overnight.
Licking a raw chicken isn't safe whether campylobacter is found in 78% of raw chickens (as was the case in Asda), or 60% (in the case of Tesco). Exposure to raw chicken isn't safe whether the levels of campylobacter are over 1,000cfu in the case of 28% of chickens (as was the case at Asda) or 11% (at Tesco) or even 10% (the level the FSA wants the industry to reach).
On the other hand, if awareness of campylobacter increased from that 33% figure to the 94% level of consumer awareness in salmonella, or the 92% level of awareness of ecoli, that would have a material impact on consumer safety.
And presumably a more immediate one?
But how? The obvious solution is a public service ad campaign. Whether it features shocking images and provocative headlines like the one we used here to attract your attention, or a more factually led tactic, such as pointing out that campylobacter can be killed if you cook a chicken for two minutes at 70c, is neither here nor there.
What's clear is that with alarmist headlines playing out across the media last week (including calls for a boycott of supermarket chicken), chicken sales will fall as a result of the FSA's aggressive campaign. Which was never the FSA's intention, surely.
Don't believe me. Here's a text from my own mother on Friday night. "I was going to give chicken for my lunch party tomorrow. What do you think?" she asked.
When an intelligent woman, who has cooked and eaten chicken safely for over 70 years, is alarmed, one shudders to imagine the impact on younger, less experienced shoppers.
With a public service campaign consumers would be better armed to tackle the dangers in handling raw chicken. Instead the FSA has chosen to name, shame and blame.