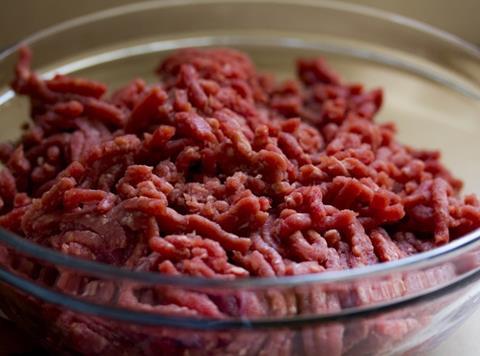 Online retailer Muscle Food is recalling a range of meat products, after an unannounced inspection at its meat supplier - and sister company - DB Foods revealed concerns about use-by labelling.
The Food Standards Agency announced the recall on Thursday evening (8 February) and said consumers were not advised to eat the affected products.
"We had concerns about procedures at DB Foods for use-by dates on some products that were not compliant with legal requirements," the FSA said.
"The affected products have been labelled with incorrect use-by dates, and therefore could be inadvertently eaten past the date by which they can be safely consumed."
It added it had "no evidence of wider problems across DB Foods sites and no further action that would affect the business has been necessary. Distribution from their sites is continuing and is being overseen by FSA staff."
Affected products
Muscle Food sells meat as well as a wider range of sports nutrition and food and drink products, and is targeted primarily at fitness-conscious shoppers. The list of products it is recalling runs to six pages and includes lines such as extra lean burgers, zero fat rump steak and Wagyu meatballs.
Like DB Foods, it is part of The DB Food Group.
Asked about this by The Grocer, a spokesman for Muscle Food said while both companies were part of the DB Group they were run independently of each other, "with Muscle Food having no day-to-day control of DB Foods and there being no shared functions".
"Less than 28%" of all products supplied to Muscle Food customers on a monthly basis were sourced from DB Foods or any other entities from with the DB Foods Group.
The spokesman added: "DB Foods were selected as one of our many suppliers due to its status as a BRC AA accredited supplier with an excellent record in service and quality. The relationship between the companies is governed by a supply agreement and DB Foods is treated like any other supplier, with full product specification and service level expectations in place."
In a note to customers on its website, Muscle Food said it would only use DB Foods as a supplier again "if we are confident that this issue is remedied".
Asked by The Grocer to clarify the current supply relationship between the companies, Muscle Food said it ceased sourcing meat from DB Foods when it became aware of the issue but had since received assurances that the issue had been remedied and the FSA was satisfied with the processes in place at the company. "Supply is expected to commence again shortly."
In a statement on the Muscle Food website, founder Darren Beale apologised to customers and said Muscle Food took product quality very seriously.
"In this case our supplier was a British Retail Consortium AA rated supplier; the highest rating you can achieve in the industry, with an excellent pedigree of supplying multinational companies. The moment they realised their mistake; they informed us and we informed you."
He added: "They have let us down; and although the Muscle Food team quality check thousands of items every day; use some of the UK's best known suppliers and care passionately about ensuring product quality - we have let you down too, sorry."
'Isolated error'
DB Foods said: "Following a routine inspection from the Food Standards Agency, an isolated error in the use-by-date labelling for a small number of our products was identified, which has now been remedied. Products were labelled with a use-by date beyond the 10 days recommended by FSA.
"Only one of our customers received the mislabeled batch of products; our sister company Muscle Food. We immediately notified them and Muscle Food has contacted all affected customers to implement a precautionary product recall.
"It is important to note that while both companies are part of the wider DB Food Group, they are run independently of each other and have no shared functions.
"As a British Retail Consortium AA rated supplier, we welcome the Food Standards Agency's inspections across the industry. We have worked closely with them throughout this process and are pleased to report that FSA has identified no further issues. As this was a small, isolated incident, our wider distribution has not been impacted and all operations continue as normal. DB Foods has an excellent record in safety and takes pride in the quality of its products. We will continually work to ensure that this quality is not compromised."
Meat sector review
The Muscle Food recall is the latest in a string of compliance scares in the UK meat industry involving use-by labels.
At the end of January, production at meat supplier Russell Hume was suspended after the FSA said it had was investigating "the extended us of use by dates" and the food safety management system in place at the company. Production at one site, in Liverpool, has since been allowed to resume but the rest of the business remains on hold while investigations continue.
Last year, poultry giant 2 Sisters Food Group hit the headlines, after an undercover investigation by The Guardian and ITV alleged a string of compliance issues at one production site.
The FSA has been stepping up unannounced inspections of meat businesses in response and earlier this month announced a wide-ranging review of UK cutting plants and cold stores.