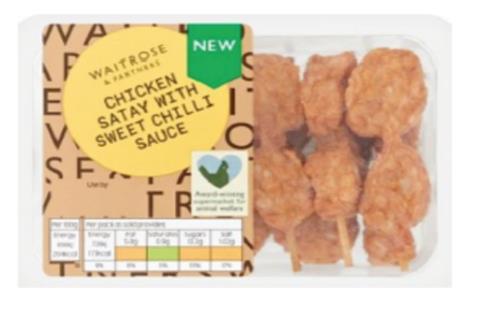 Waitrose has recalled its own-label chicken satay with sweet chilli sauce due to the incorrect dip being added to the SKU.
The upmarket grocer included a sauce made with fish and peanuts with the item rather than the sweet chilli variety listed on the label, resulting in the labelling not including the aforementioned ingredients.
The Food Standards Agency (FSA) confirmed Waitrose had published a point of sale notice to its customers about the issue.
Waitrose said a "small number" of packs contained the incorrect sauce, and advised customers who have purchased the product to not eat it if they are allergic to peanuts or fish, and return it to their local branch for a refund.
"As a precautionary measure, we are recalling Waitrose chicken satay with sweet chilli sauce with a best-before date of 17 August 2020 due to a small number of packs containing the wrong sauce," a Waitrose spokesman told The Grocer. "We have notified the FSA and Allergen UK, and have alerted our customers across multiple channels, who can return the products for a full refund."