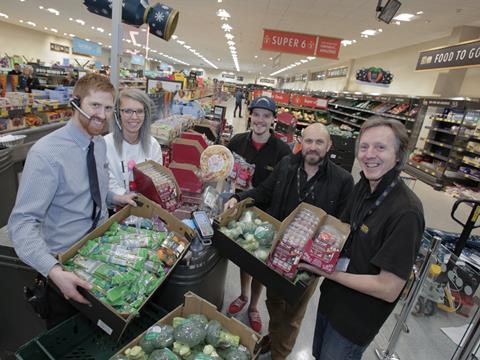 Aldi will again donate all unsold fresh food to charity on Christmas Eve, the company has said.

The scheme, which also ran last year, will pair charities with stores so they can collect perishable food such as fruit, vegetables, fresh meat and fish after closing time at 6pm on 24 December.

All 775 UK Aldi stores are to be involved, with the discounter hoping to surpass last year's 450,000 meals donated across more than 300 charities.

The supermarket is asking charities to email Christmas@aldi.co.uk before 18 November with their organisation name, charity number, contact details and focus, for example 'food bank'.
They should also include the postcode of their three nearest stores found on www.aldi.co.uk/store-finder.

Eligible charities must be able to collect, store and distribute fresh food, Aldi said. Each store can partner with one charity on a first-come-first-served basis.

"We want to give something back to the communities that we serve at such an important time of year," said Fritz Walleczek, Aldi's managing director of corporate responsibility

"Last year we were able to reach thousands of people across the UK, and some charities were even able to prepare fresh meals that fed families well into the New Year."