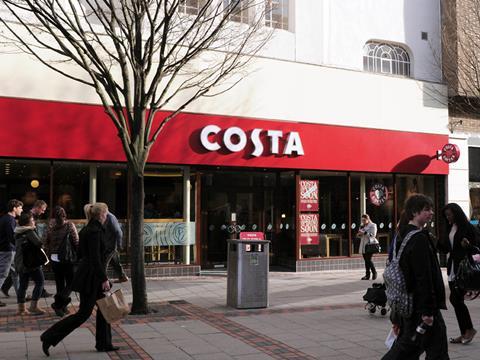 Costa is to launch a nationwide recycling scheme in the new year in a bid to address the mountain of waste caused by disposable cups.

Recycling racks will be installed at more than 2,000 Costa stores from the end of January as the UK's largest coffee chain seeks to prevent more than 30 million of its own takeaway cups as well as those of its competitors ending up in landfill each year.

The move follows a successful trial in more than 45 stores across London and Manchester.

"We are committed to taking a lead and, like many others, we are working hard to find a cup that can be recycled anywhere," said Costa UK&I managing director Jason Cotta.

"While there is more work to do in partnership with the wider industry, we are excited to see the impact our new in-store recycling offer will have and hope it is embraced by everyone - by our customers and by those who buy their coffee elsewhere."

Last month The Grocer reported that Waitrose was backing the first high street recycling scheme aimed at trying to get people to recycle their coffee cups.

The #1MoreShot campaign, which is being run by charity Hubbub, is also being backed by Nestlé, Greggs, Caffé Nero, Costa, KFC, McDonald's and Pret A Manger.

Hubbub claims only 1% of the 2.5 billion paper cups currently thrown away in the UK every year are recycled.