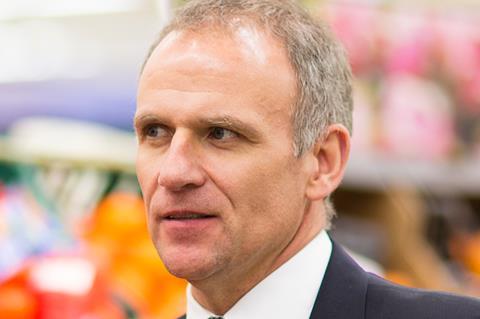 Tesco boss Dave Lewis has warned there are "crucial" gaps in the government's new strategy to tackle food waste, being launched today (13 May).

The head of the UK's biggest supermarket chain, who is also chairman of the Champions 12.3 global sustainability group, said the new Step up to the Plate initiative being launched by environment secretary Michael Gove risked being toothless unless it asked companies to publish their food waste data.

Lewis also called for the industry to massively speed up the move to transparency, saying all UK food companies should publish their food waste data within the next 12 months.

He wants that commitment to be added to the government's new pledge, with companies due to meet Gove and the government's food surplus and waste champion Ben Elliot in Westminster later today.
The event will see suppliers and retailers urged to back the UN Sustainable Development Goal 12.3 to halve food waste by 2030, as well as adopt the Wrap and IGD Food Waste Reduction Roadmap, to have half of all 250 of the UK's largest food businesses measuring, reporting and acting on food waste by 2019.

Lewis questioned why the pledge did not include a specific commitment to publish food waste data much earlier.

"The UK is a leader in tackling food waste, and we welcome the continued focus on this issue as demonstrated through initiatives such as the Step up to the Plate pledge," Lewis said.

"However, we want this to go further. There is a huge opportunity, and indeed an imperative, to step change our efforts to reduce food waste in the UK by more closely aligning activity to the principles set out by Champions 12.3 through 'target, measure, act' and the introduction of public reporting of food waste.

"We welcome the UK government's focus in this area and see an opportunity to press even further to continue to lead the world in our efforts to tackle food waste."

Tesco's intervention comes with the supermarket giant due to publish its latest food waste figures tomorrow. In September it published the food waste data of 27 of its major own-label suppliers, who agreed to come clean on food waste data, revealing they wasted a total of nearly 700,000 tonnes in 2017-18.

Tesco, which became the first supermarket to begin publishing its food waste figures in 2013, itself wasted nearly 55,000 tonnes last year.
Last September also saw the launch of the Wrap and IGD Food Waste Reduction Roadmap, with nearly 100 food and drink companies agreeing to publish details of and take action against their contribution to food waste.

Yet the time frame of the roadmap is much slower than that being called for by Lewis and Champions 12.3.

The roadmap aims for half of the top 250 UK food businesses to be measuring, reporting and acting on food waste within 12 months, and all to be doing so by 2026.

The UK government is due to consult on mandatory reporting requirements later in the year.

"Champions 12.3 is clear that we need to see more countries and individual companies measuring and publicly reporting levels of food loss and waste if the world is to achieve Sustainable Development Goal 12.3," said World Resources Institute director of food loss and waste Liz Goodwin.

"Transparency is key for identifying food waste hotspots, and allows companies to work in partnership with others to tackle these and accelerate progress. Public reporting is also the only way that we'll know whether the UK and the world is on course to reaching Target 12.3."