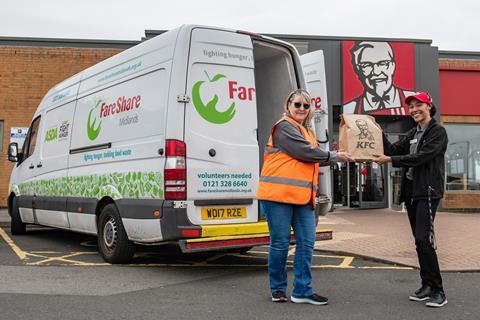 FareShare has struck a deal with KFC to redistribute millions of meals to communities in need across the country, to help tackle rising cases of food insecurity.
The UK's biggest surplus food redistribution group has now joined forces with the fast food chain following a successful eight-month trial at 20 KFC restaurants in the Midlands, the north east and Essex.
During the trial, over 27,500 meals were redistributed to 22 local community groups. Now, the majority of KFC's 1,000 UK restaurants will be made part of the scheme by the end of the year.
The programme is estimated to help deliver over four million meals a year to those facing increasing food insecurity.
"The last two years have been really tough – but particularly tough for some more than others," said Jenny Packwood, KFC UK&I chief corporate affairs and sustainability officer.
"We've seen more and more people in the local communities that we serve being plunged into food insecurity and, as the cost of living crisis intensifies, it is more important than ever that we make sure any surplus food gets to the people who need it most.
"We want to move fast and hard on rolling out our food redistribution programme by the end of the year, and across all of our restaurants, because we cannot sit by while our communities suffer."
The tie-up will be enabled by the FareShare Go app, which links local charities and community groups with their nearest KFC restaurant, allocating different collection days so they can pick up the items available from the branch directly.
This facilitates the communication between groups in need and their local KFC, erasing the need for FareShare to deliver the surplus food.
The US chain will be redistributing five main chicken items – original pieces, hot wings, mini fillets, fillets and Zingers – and collection takes place three times a week.
This will also be the first time frozen food products are available for collection via the FareShare Go app. KFC "blast-freezes" the surplus cooked chicken, which is then provided frozen to a local charity or community group so it can be stored in the freezer and cooked by the charity as and when it is needed.
"This partnership marks the first time we will be offering frozen poultry products to local communities using the FareShare Go app, complementing the fresh fruit & veg and bakery items typically received," said FareShare CEO Lindsay Boswell.
"With the current cost of living crisis affecting millions of people already struggling to make ends meet, this food is needed now more than ever."
In a recent FareShare survey of more than 1,200 charities, 75% said they had seen an increase in demand for their food redistribution services over the past year.