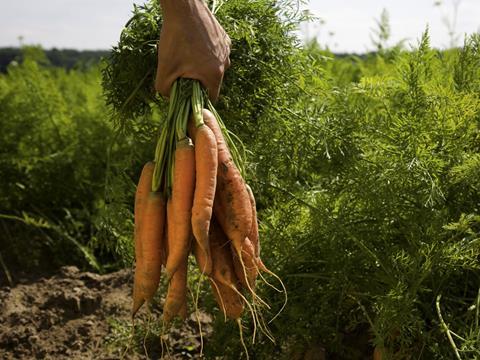 A new report today claimed supermarket buying practices are leading to hundreds of thousands of tonnes of fruit and veg being left to rot, despite recent moves by retailers to cut down on food waste.

Research by environment charity Feedback among fruit and vegetable farmers reported that together they wasted between 22,000-37,000 tonnes per year.

Food waste accounted for between 10% to 16% of crop among the 36 farmers surveyed, who represented 2.6% of the UK's fruit and vegetable production, producing a total yearly tonnage of 227,266 across several different crop types

The report claims retailers are using their buying power to transfer the risk and cost of overproduction to producers, who have few options for alternative markets.

The research comes after Groceries Code Adjudicator Christine Tacon told The Grocer last November that forecast and promotion failures were driving vast quantities of waste

More than 50% of farmers surveyed claimed they overproduced because of pressure to meet buyer orders, or risk losing contracts, according to Feedback.
Meanwhile just under half of the surveyed farmers said that retailers still used cosmetic standards for colour, shape and size that fresh produce must meet, in order to be sold on supermarket shelves, as an excuse to reject produce when retailers can get a lower price elsewhere or following a fall in demand.

Feedback claimed half of the farmers surveyed said that costs incurred from crop waste arising from forecasting errors by retailers were not compensated.

One anonymous farmer said they wasted on average 25% of their carrots, amounting to 1,750 tonnes per year, in large part because they are rejected for being too small, large, or wonky.

Another who grows cabbages, cauliflowers, sprouts and broccoli reported about 15% of their edible crop being wasted for cosmetic reasons such as discolouration and produce being the wrong size.

The latest report comes following a dossier by Wrap in October that suggested pre-farmgate waste could dwarf levels later in the food supply chain, at least in volume terms, with its conservative estimates suggesting 2.5 million tonnes is going to waste, at an estimated loss of £0.8bn.

Carina Millstone, executive director of Feedback, said: "Despite a government and industry focus on food waste occurring in homes, our pioneering research finds that waste on farms, often a result of supermarkets' outsized power in the supply chain, is significant and pervasive.

"Supermarkets need to recognise their part in driving food waste on the farms in their supply chain - and work with their suppliers to reduce this waste."